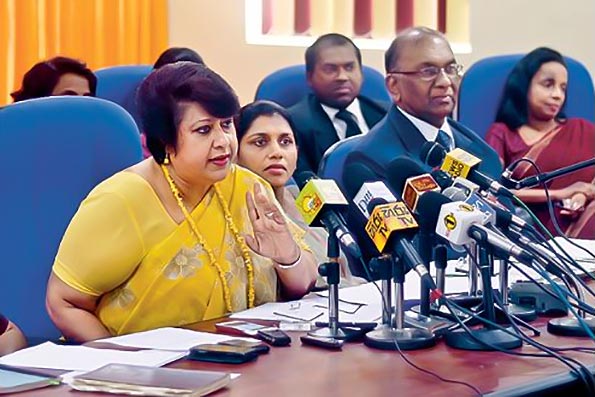 Charges of corruption had been levelled against 61 politicians, including members of Parliament and ministers, Director General of the Commission to Investigate Allegations of Bribery or Corruption, Dilrukshi Wickremasinghe, said yesterday (19).
She said that investigations have already commenced into these complaints.
Addressing the first ever media briefing in the history of the CIABOC yesterday, she said that 521 complaints have been received by the Commission since January 2015 and that she is directly responsible for them.
She added that, the Bribery or Corruption Investigation Act should be amended and that she firmly believes that there should be a separate Court to hear these cases.
She also said, at the time she assumed duties 1,600 files, containing complaints received during the past few years, had filled a room in the Commission building.
She said that 423 of these files have been inspected and referred for future investigations while 525 more files have been taken over by her for monitoring.
She stated further that she will take steps to consider the accusations targeting officials of the Commission prior to looking into the corruption, fraud and irregularities that exist in the country.
"Before I assumed duties, I heard that officials of this institution had been engaging in irregularities. This is my second home. As a result my first responsibility is to remove the garbage from my home, only then will I be able to peek into the homes of other people in the country. I will take action regarding the complaints I receive against my officials and commissioners, not taking into consideration their status," she said.
She said that, people of this country could call 0776011954 and inform the commission of such complaints and that she herself will personally provide responses to these telephone calls. Meanwhile the new Director General has taken steps to cancel leave of the officials of the commission for a period of two months.
(Ceylon Today)