70 university students in remand
Posted by Editor on February 2, 2012 - 9:37 am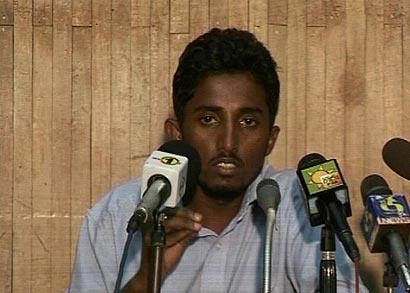 Some 300 university students are facing court cases while 70 are already in remand custody as a result of a crackdown carried on students by the authorities, the Inter University Students Federation (IUSF) alleged yesterday.
IUSF Convener Sanjeewa Bandara said more than 1,000 students had been suspended from the universities during the past two years.
He said these students had been penalised for fighting for their rights and vowed the students would go ahead with their protests to safeguard the free education system in the country regardless of the crackdown.
Mr. Bandara said the government was planning to introduce a Bill to set up private universities.
"We are having discussions with parents of school children to work out a plan for joint action," he said but added that there was no move yet to get school children to join the protests.
Responding to government allegations that these student unions are linked to the Pro LTTE Tamil Diaspora, he said they have no connections with Tamil expatriates.
However Mr. Bandara said the union was closely associated with the Tamil youth in the North. "This is purely for resolving the common problems faced in the education sector but with no other motive," he said.
When asked whether continuous protests would not disturb their education, he said the union accepted that students attend universities to study but they were compelled to take to the streets when there was no appropriate environment for them to engage in studies. Citing examples he said there are no adequate staff and other facilities in the Management Faculty in the University of Peradeniya. He alleged that the intake of students in the faculty had been reduced to 50 this year when compared with 150 last year.
Courtesy: DM Online
Latest Headlines in Sri Lanka