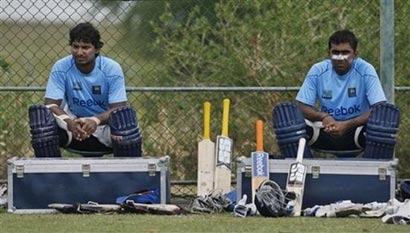 This summer's tri-series will be played amid a backdrop of a pay dispute which sees Sri Lanka's players owed as much as $US 5million ($4.71 million) due to a cash crisis within the country's governing body.
As Mahela Jayawardene's team battle the world's top two ODI sides on the field during this month's tri-series, off the field its players union will be taking on its cash-strapped board in a row which threatens to send cricket in the island nation further into turmoil.
The Federation of International Cricketers' Associations fears the parlous state of Sri Lankan cricket's finances leaves it at risk of becoming insolvent without a bailout from the government.
The players are seeking to recoup payments owed to them from as far back as a year ago when Sri Lanka made the final of the World Cup, which they co-hosted with India and Bangladesh.
The International Cricket Council intervened in December when they bypassed the board and facilitated a direct $US2 million payout to Sri Lanka's players.
The players are still owed a further $2.3 million from the World Cup, plus money from outstanding payments for matches against England, Australia, Pakistan and South Africa in the past eight months.
The general secretary of the Sri Lanka Cricketers' Association, Ken de Alwis, said Sri Lanka's players earned $5000 in match fees for ODIs, which means the board faces payments of at least $480,000 plus awards and prizemoney from their current tour of Australia.
With the visitors due to play a minimum of eight matches, the board's wage bill will blow out to $5 million, which the SLCA wants paid before the players' contracts expire at the end of the month.
As the visiting team, Sri Lanka are not entitled to a share of revenue raised from TV rights or ticket sales, but have their costs covered by Cricket Australia.
Despite the uncertainty hovering over Sri Lankan cricket, the players continue to pad up as they put the honour of playing for their country above their financial worries.
''The newly elected committee is trying to sort things out, it eventually will happen. Until then, we just need to try and concentrate on cricket … just move on and get on with it,'' Jayawardene said yesterday in Melbourne, where Sri Lanka opened their tour against a Victorian Second XI. ''Financially, it is a burden for some of the guys, so we need to make sure they've got that security, knowing that they will get paid, so we can keep their focus on their game.''
The players have not threatened to strike but their goodwill may expire if the board does not meet the February 29 deadline.
While Australia's top players can receive close to $1 million from Cricket Australia, Sri Lanka's elite are believed to be on deals of around $100,000 with their board.
Their relatively low contracts makes them vulnerable to the temptation of retiring from international cricket to pursue lucrative offers from domestic Twenty20 tournaments, such as the Indian Premier League, the Bangladesh Premier League or even Australia's Big Bash League.
Kumar Sangakkara, rated first and seventh respectively in the ICC Test and ODI batting rankings, commanded a $US700,000 fee in last year's IPL player auction, while skipper Jayawardene was sold to the defunct Kochi for $1.5 million.
''There's a lot of opportunities for cricketers to earn significant amounts of money, in fact more than they can playing for their board, in other countries,'' Tim May, the chief executive of FICA, said.
''They've got families, they've got mouths to feed, they've got mortgages to pay etc, then they'll look at their opportunities.
''That would be a tragic situation for Sri Lanka Cricket. They desperately need to do something. They desperately need to find funding so they can pay outstanding debts, not only to cricketers but also hotel chains, air carriers etc and other creditors, such that they can get their act together and operate properly as a governing body for cricket in that country.''
Sri Lankan cricket has endured turbulence on and off the field since what proved to be a financially disastrous World Cup for it last year. The board accrued debts of $32.5 million after building two new stadiums, in Hambantota and Pallekele, and renovating a ground in Colombo. The team has also had two captains and four coaches in the past year, and recently appointed South African Graham Ford just four months after signing Geoff Marsh to a two-year deal, the Sydney Morning Herald reports.
Courtesy: Ada Derana