7th Parliament convene- Chamal Rajapaksa is New Speaker
Posted by Editor on April 23, 2010 - 2:35 am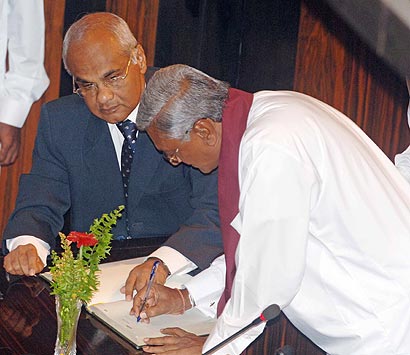 Onlanka News – By Janaka Alahapperuma
(Pix by: Nalin Hewapathirana)
President Mahinda Rajapaksa's elder brother and the former Ports and Aviation Minister Chamal Rajapaksa MP for Hambantota District was appointed unanimously as the Speaker when 7th parliament of Sri Lanka adjourned its inaugural session this morning on 22nd April.
The new parliament was sworn in this morning at 8.45 am after the General election on 8th April 2010. The appointment of the new post of Speaker was the main duty in the today's agenda. Therefore representing the UPFA government, former Minister's name was proposed by the new Prime Minister D.M.Jayaratne and seconded by the Deputy Leader of the UNP, Karu Jayasooriya MP.
Later newly elected 225 members of the Parliament were sworn in before the Speaker. Deputy Speaker of the previous parliament, UPFA Puttalam district MP Priyankara Jayaratne was once again appointed for the same post. Chandrakumar Murugesu, UPFA MP for Jaffna District was sworn in as the Deputy Chairman of the select committees.
The seventh parliament consists of 144 seats for the ruling party, UPFA (4,846,388 votes- 60.33%) while the main opposition party, UNP (2,357,057 votes- 29.34%) has 60 seats, ITAK (2, 33190 votes- 2.90%) and DNA (4, 41251 votes- 5.49%) have 14 and 7 seats respectively. It means that UPFA government is only 6 seats short of its target of two-thirds majority.
Security was tightened in and around Sri Jayawardenapura- Kotte area for the inaugural session of the parliament. President Mahinda Rajapaksa did not attend the parliament today as scheduled. However he was seen inside the parliament this morning congratulating the Speaker Chamal Rajapaksa with the former Secretary General of the Parliament Mr Sam Wijesinghe. Mean while detained former Army Commander and the DNA Colombo District MP, General Sarath Fonseka also attended the parliament.
Speaker Chamal Rajapaksa is seen here taking over the duties and the Secretary General of the parliament Mr Dhammika Kithulegoda also in the picture.
Inaugural session was limited only to elect the new Speaker, Deputy Speaker, Deputy Chairman of the select Committees and the swearing in by the new MPs. Parliament will meet again on 04 of May 2010.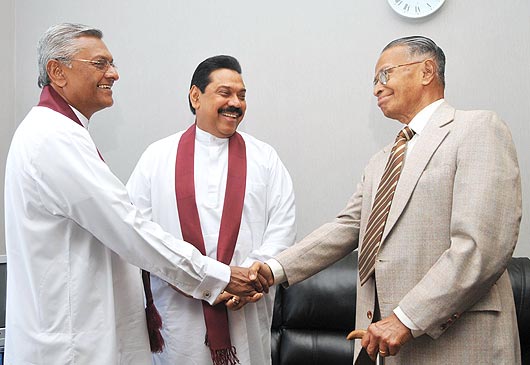 Latest Headlines in Sri Lanka