A book by former US diplomat is of the view that India should concentrate on the division of Sri Lanka
Posted by Editor on April 2, 2012 - 10:48 am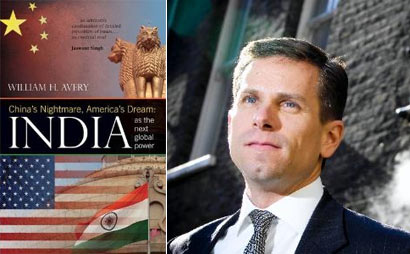 (By Walter Jayawardhana reporting from Los Angeles)
A book written by former US diplomat advocates that India should concentrate on the division of Sri Lanka.
The book   also says India once failed to project itself as a regional power when it did not send its troops to Sri Lanka to capture Prabhakaran or kill him when the Liberation Tamil of Eelam (LTTE) assasinated Prime Minister Rajiv Gandhi by a woman suicide bomber.
The book written by William H.Avery, who once worked in the US Embassy in Colombo and the American Consulate in Chennai  said in the book "China's Nightmare,America's Dream: India as the Next Global Power"  that "India Must now concentrate on the Finlandization of Sri Lanka.
The book says India should now concentrate on dividing up Sri Lanka, "India must now concentrate on the Finlandization of Sri Lanka..In the short term this will mean preventing any further non-Indian involvement in Sri Lanka's affairs."
Avery described how China invested millions to turn the sleepy fishing hamlet of Hambantota in Sri Lanka into a booming new port, just off India's southeast coast, furthering an ambitious trading strategy in South Asia that is reshaping the region.
The author says the Rajiv Gandhi killing was an attack on India as a regional power. He said a forcible taking of Prabhakaran to India to face trial would have sent a clear message to the region and the world that India would protect its political leaders from attack defend its political system from intimidation and defend its primacy in South Asia against any challengers.
In the book Avery says India became content being a passive regional power and  "India's window of opportunity to influence Sri Lanka will never be as wide open as it was in 1991 after Rajiv's killing." India's craven inaction in Sri Lanka after the assassination cost it valuable years in its quest to become a global power, the book added.
The book also want India to eject China from Sri Lanka and make Sri Lanka a kind of vassal state of India.
In the book the former US diplomat said India should respond to the challenge of China.
The book advises India to spend even more on defense and using economic coercion to influence its neighbor, Sri Lanka. Avery accused India for standing by and watching as China moved recently to build a port at Hambantota  in Sri Lanka which is just off India's Soth East coast.
"In the short term this( finlandization) will mean preventing any further non-Indian involvement in Sri Lanka's affairs." He has said to be written in his book.
His book has been published by Amaryllis, an Indian company. (EOM)
Latest Headlines in Sri Lanka