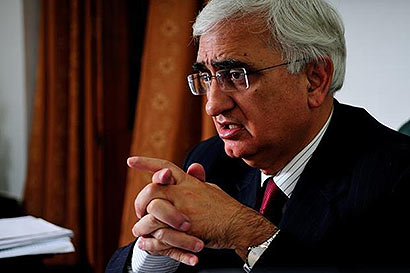 Submitted by Walter Jayawardhana
In the wake of fresh allegations of rights violations against ethnic Tamils in Sri Lanka, India today said there should be accountability for such issues but remained evasive on the position it will take at the UN on a resolution against that country.
External Affairs Minister Salman Khurshid made it clear that India would not intervene directly in Sri Lanka's sovereign affairs even as members in the Rajya Sabha expressed serious concern over the situation there and demanded an independent credible probe into the killing of LTTE chief Prabhakaran's 12-year-old son Balachandran.
DMK, a key UPA constituent, said it has lost faith in the government on this and its members staged a walkout along with those from AIADMK and Left, dissatisfied with Khurshid's reply to the debate on the plight of Tamils in Sri Lanka.
"We are totally and utterly committed to the outcome that must ensure equality, dignity, justice for the Tamil people of Sri Lanka," Khurshid said, sharing concerns expressed by members cutting across party lines.
On the recent allegation about Balachandran being killed in cold blood by the Sri Lankan forces, he said India cannot "adjudicate" about the truth behind the incident and apportion the responsibility on anybody for the "very moving, very tragic, very sad" incident.
"That is why we are engaging with Sri Lanka…
Accountability should be there…Whether it should be imposed from outside or come from within… Honestly speaking, accountability is necessary, accountability is inevitable but accountability must come from within," the minister said.
"There is no future unless there is reconciliation, there is no future unless there is accountability," he said but added that India cannot impose a timeline on Sri Lanka for it.
Responding to demands by members that India should vote with the US resolution in the UN against Sri Lanka on it, he said, "What point we make in the UN can't foreclose today.(Courtesy: The New Indian Express)