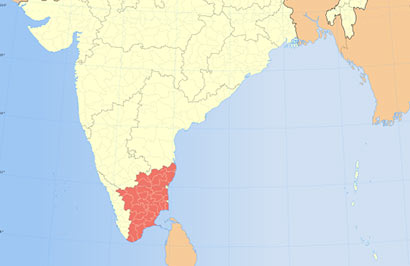 Submitted by Walter Jayawardhana
Fearing protests by pro-Tamil activists, a group of 75 Sri Lankan Christians cut short their pilgrimage to Velankanni and reportedly rushed back to Chennai on Sunday. The Sinhalese pilgrims were bound for the Our Lady of Health Basilica at Velankanni, when the police warned them of the protests.
The group, including 50 women, from Colombo arrived at the Tiruchy airport on a Sri Lankan Airlines flight at 3.30 pm on Sunday, sources said. Around 5 pm, they boarded two buses for Velankanni and, when they crossed Thanjavur, some police personnel stopped them.
They were reportedly warned that they could come across protests and even assaults as was the case during a similar trip undertaken by a group of Lankan pilgrims in September 2012.
The latest group was apparently unaware of the earlier incidents.
Intelligence sources said that information on the arrival of the 75 Sri Lankan pilgrims reached some pro-Tamil outfits, the members of which were awaiting the Lankan group in the Tiruvarur and Needamangalam areas to register their protest against their visit.
After being warned by the police personnel, the pilgrims tried to rush to the Tiruchy airport to catch a flight back to Colombo.
In the meantime, however, the police received information that the members of the Tamil outfits had by then assembled en route the Tiruchy airport.
With no other go, the police diverted the pilgrims from Tiruvarur to Chennai by late night.
The incident came days after a Sri Lankan MP, Karurathina Jayasuriya, who had shifted his loyalty to Lankan President Mahinda Rajapaksa's party after being elected on a ticket from Ranil Wickremasinghe's United National Party, faced strong protests while he was on a pilgrimage to Nagapattinam.
Stones were pelted at his vehicle by a group of cadre from the MDMK and Naam Tamilar Iyakkam, who also protested outside a hotel he was staying in with his wife Vasantha Jayasuriya and a relative, Rohan Kamahe.
The Lankan MP, who had arrived on February 21 and planned to offer worship at the Thirukadaiyur temple in Porayar near Nagapattinam, was forced to cut short his trip and, on the same day, rushed to Chennai to board a flight to Sri Lanka.
Similarly, on September 4, 2012, a group of 184 Lankan pilgrims faced the wrath of Tamil activists at the Poondi Basilica. Stones were allegedly hurled at them by the protestors. They too were subsequently forced to called off their trip to Velankanni. (Courtesy: The New Indian Express)