Agriculture, Energy and Trade Dominate Sri Lanka-Uganda Bilateral Discussions
Posted by Editor on May 13, 2013 - 8:35 am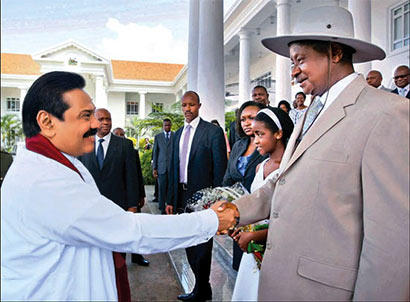 KAMPALA: The Sri Lankan and Ugandan delegations headed by President Mahinda Rajapaksa and President Yoweri Museveni held bilateral talks today at the State House in the town of Entebbe, approximately 40 km south of the Ugandan capital, Kampala.
The discussions focused on a number of sectors on which the countries agreed to collaborate during President Museveni's visit to Sri Lanka last November, but the bulk of the talks focused on agriculture, energy and trade.
The agricultural sector employs more than 80 percent of Uganda's workforce, and the discussion focused primarily on cotton and the textile industry. President Musevni requested assistance to develop Uganda's textile industry given Sri Lanka's success in the sector. Pointing out that there are several very successful Sri Lankan companies, President Rajapaksa said "We will tell them to come here and look into the (possibility)" of investing in Uganda. Improving production techniques, building capacity and strengthening research were identified as some of the areas of potential collaboration. Only five percent of the cotton produced in Uganda is used by the existing textile companies. Therefore, the Ugandan ministers pointed out, there is a great investment potential for Sri Lankan companies.
Another area of potential investment opportunities for Sri Lankan companies in Uganda is in the power and energy sector. Already, a Sri Lankan company has constructed a 6.6 MW small hydro power plant in the country. The Ugandan Minister of Energy and Mineral Development said the work of the Sri Lankan company was impressive because of its ability to construct the plant on difficult terrain and do it on time and within the budget. Several areas in the oil and gas sector were also identified for potential investment, including refining, infrastructure development, pipeline construction, development of storage facilities and related waste management.
The two delegations also discussed the status of a project to upgrade the Masulita Vocational Training Center, which President Rajapaksa is scheduled to visit during this tour. In an agreement signed during President Musevni's visit, Sri Lanka consented to provide $1.5 million to improve the facility.
In addition to the ministers of education, agriculture, and energy and mineral development, a number of other senior Ugandan government ministers were present at the bilateral talks.
The following were a part of the Sri Lankan delegation: Minister of External Affairs Prof. G.L. Peiris, Monitoring MP for the Ministry of External Affairs Sajin de Vaas Gunawardena, Secretary to the President Lalith Weeratunga, Sri Lanka's High Commissioner designated to Uganda (resident in Nairobi, Kenya) Mr. T. Raveenthiran and Sri Lanka's Honorary Consul in Uganda Mr. V. Kananathan.
Latest Headlines in Sri Lanka