Inflation elevated, reserves low: IMF
Posted by Editor on May 13, 2013 - 8:53 am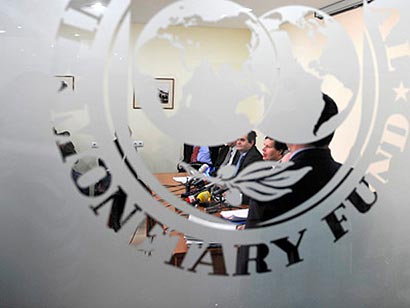 The IMF warned Sri Lanka that inflation was elevated and cautioned the Central Bank against easing monetary policy, while international reserves were low.
It said a new phase of reforms were needed to ensure a sustainable fiscal position, achieve low and stable inflation, safeguard financial stability, and support high and inclusive growth over the medium term.
"With rising wage and cost pressures, Directors cautioned against a further easing of monetary policy in the near term. Exchange rate flexibility should be maintained to cushion external shocks, while deeper markets and a gradual move toward a flexible inflation targeting regime would strengthen inflation control. Directors noted that international reserves are relatively low by most metrics, and encouraged strengthening the reserve position as circumstances permit. They cautioned that government guarantees for foreign currency borrowing by banks, if introduced, could undermine exchange rate flexibility, create contingent liabilities, and raise debt sustainability risks," Executive Board of the International Monetary Fund said at the conclusion of the periodical Article IV consultation with Sri Lanka.
"Executive Directors commended the authorities for prudent policy implementation, which, supported by the Stand-By Arrangement concluded last year, has facilitated the achievement of robust growth and poverty reduction in a difficult environment. The near-term outlook presents challenges, including slower growth and elevated inflation. Directors emphasized that a new phase of reforms is needed to ensure a sustainable fiscal position, achieve low and stable inflation, safeguard financial stability, and support high and inclusive growth over the medium term," the IMF said in a statement. "Directors welcomed the authorities' continued efforts toward fiscal consolidation, particularly on recurrent spending, given a high public debt ratio, and supported the goal of reducing the budget deficit while clearing expenditure arrears. However, they noted that revenues have fallen to very low levels, placing the burden of adjustment on expenditure, notably capital spending.
"To enhance space for infrastructure and critical social spending, Directors stressed the need to broaden the revenue base and improve tax administration, including by extending the VAT fully to the retail and wholesale sectors, reforming the refund system, and revising tax holidays and exemptions. Directors further underscored the need to put state-owned energy enterprises on a sound financial footing. They noted that the recent electricity price hike should help reduce losses, and advised adopting an automatic price adjustment mechanism, complemented by targeted social protection safeguards. Recent efforts to strengthen public financial management will support the overall fiscal consolidation strategy.
Banking system…
"Directors concurred that the banking system appears sound and welcomed the progress in strengthening financial sector supervision and regulation. They called for vigilance following recent high credit growth and encouraged the authorities to draw on the recommendations of the updated Financial Stability Assessment Program to bolster financial stability further.
Deterioration of Export-to-GDP…
"Directors noted the long-term deterioration of the export-to-GDP ratio and growing reliance on debt for current account deficit financing. They encouraged the authorities to boost competitiveness, including through strengthening trade, expanding infrastructure, and further improvements in the business climate to attract foreign direct investment. Directors supported the proposal for post-program monitoring," the IMF said.
(Courtesy: The Island)
Latest Headlines in Sri Lanka