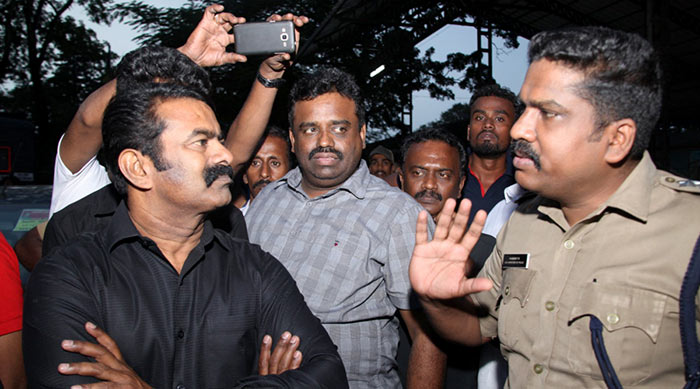 The police in Kottayam, Kerala were alarmed as a caravan of trucks bearing flags similar to that of the Tamil terrorist group LTTE arrived there with flood relief material, reported Indian Media. Raising fear, the vehicles had a banner with the picture of the late Velupillai Prabhakaran, who headed the lethal terror outfit which was once active in Sri Lanka.
The cops questioned the volunteers and sent them back as they realised the latter were members of the Tamil nationalist party Naam Tamilar Katchi (NTK), headed by Seeman a filmmaker and actor in Tamil Nadu.
The NTK members had off-loaded relief materials at the Armed Reserve Police Camp in Kottayam town on August 25 evening, prompting several officials including the Additional District Magistrate to reach the spot.
They were questioned in detail at Kottayam East police station. They revealed that they had earlier distributed relief materials at camps in Idukki and Munnar too last week.
The activists, who belong to Madurai, Theni, Kambam and Kumily, had arrived here in 25 vehicles loaded with relief materials. Though the materials they delivered were examined by the bomb detection and disposal squad and sniffer dogs, nothing suspicious were found. Food items were later sent for tests.
(Source: Manorama online)