All set for the Victory Day parade
Posted by Editor on May 14, 2012 - 4:52 pm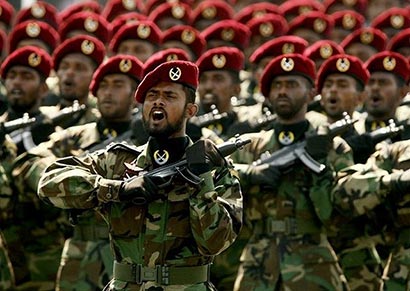 The Victory Day parade marking the third anniversary of the vanquishing of the ruthless LTTE terrorism from the country and end of the 30 years of terrorist atrocity which resulted in the death of several thousand innocent people of this country and destruction of millions worth property, will be held on May 19 at the Galle Face Green under the patronage of President Mahinda Rajapaksa.
Defence Ministry sources said that the  parade this year will consist of 852 officers and 12, 828 other rankers from the tri-forces, the police, and Civil Defence Force.
The parade will be commanded by Maj. Gen. Jagath Rambukpotha, who is the Commandant of the Defence Services Command and Staff College. He commanded the 56th Division during the war.
The army contingent at the parade will consist of 398 officers and 4628 other ranks, the Navy with 115 officers and 2651 sailors, Air Force with 78 officers and 1383 airmen, police including STF with 61 officers and 963 policemen, and the CDF with 30 officers and 462 other rankers.
Defence Ministry sources also said that Army will have 148 vehicle columns including signals, engineering, infantry, mechanized and Special Forces vehicles. A fly past by the Air Force with 33 aircraft including helicopters will be held and will consist of 23 officers and 167 airmen. The Navy parade in the seas will see 72 vessels of different types and will consist of 147 officers and 1524 sailors along the Galle Face coast.
At this function, President Mahinda Rajapaksa will present 'Parama Veera Vibushana' medals to families of war heroes.
Meanwhile the Victory Day will be marked in all nine provinces as well.
Source: Government News Portal
Latest Headlines in Sri Lanka