ALLEGED ATTACK ON INDIAN FISHERMEN
Posted by Editor on March 8, 2013 - 2:04 pm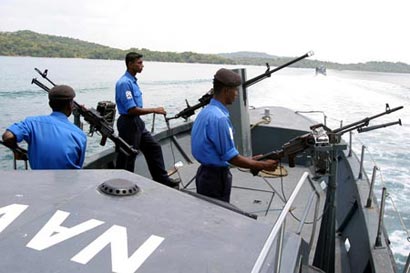 On seeing reports in the media on 7 March 2013 on an incident of alleged firing at Indian fishermen by the Sri Lanka Navy off the Kodiakarai coast, an investigation has been carried out. It was revealed that Sri Lanka Naval vessels had not entered Indian waters at any time either on 6 or 7 March 2013, as alleged. It was further revealed that no Sri Lankan Naval craft had opened fire at any fishing vessel or any other object on 6 or 7 March 2013 in the area.
The Sri Lanka Navy expresses concern over the large number of fishermen from Southern India crossing the International Maritime Boundary Line (IMBL) and fishing in Sri Lankan waters on a regular basis and in this regard, the Sri Lanka Navy confirms the arrest of 16 fishermen poaching in Sri Lankan waters off the north-western coast on 3 March 2013.
The Sri Lanka Navy reiterates its commitment to not use force under any circumstances and extend humane treatment to all fishermen at all times.
8th March 2013
Sri Lanka High Commission
New Delhi
Latest Headlines in Sri Lanka