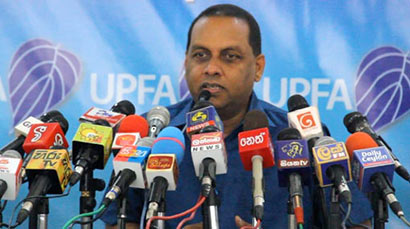 Disaster Management Minister Mahinda Amaraweera yesterday expressed confidence that presidential election could be held on January 8, 2015 as scheduled in spite of over a million people being displaced due to heavy rains and earth slips.
Minister Amaraweera was responding to a query by 'The Island' whether it would be possible to conduct presidential polls amidst unprecedented emergency situation.
Amaraweera said his ministry was in touch with the meteorology department as well as the elections department. "We hope the situation will improve within the next few days. The decision on postponement will depend entirely on Elections Commissioner, though we can make representations", he said.
Addressing the media at SLFP headquarters, Minister Amaraweera said other than Colombo, Gampaha, Galle and Matara districts, the entire country had been affected.
The minister said 23 people had been killed, 15 injured and eight missing, while 4,571 houses were destroyed completely. The minister placed the number of houses damaged at 14,511, though the actual figures could be higher.
The minister admitted that there had been some lapses on the part of officials, though the government acted swiftly and decisively to provide assistance to those affected. Explaining measures now in place to assist flood victims, the minister asserted that Badulla administrative district was the worst affected with about half of the land area being vulnerable to earth slips.
Amaraweera lashed out at Maithripala Sirisena's camp for seeking to gain political mileage from a natural disaster crisis.
UPFA General Secretary and Minister of Environment and Renewable Energy Susil Premjayantha told another media briefing at the same venue that contrary to reports, postponement of presidential poll hadn't been discussed with the polls chief. The minister insisted that he never commented on the issue before Sunday's media briefing.
Meanwhile, Dr. P. Saravanamuttu on Sunday urged polls Chief Mahinda Deshapriya to take special measures to ensure that the recently displaced persons would get an opportunity to exercise their franchise. Dr. Saravanamuttu in a brief missive to Deshapriya stressed that the voters had been displaced from areas in which their polling booths were located and the loss of polling cards as well as identification documents.
Additional Commissioner of Elections R.M.A.L. Ratnayake yesterday told The Island that Elections Chief Deshapriya had called for several meetings possibly on January 3 to review the ground situation. Ratnayake said that pending that meeting the Election Secretariat and other relevant departments would continue to work towards holding the next presidential polls as scheduled.
(The Island)