Ambassador Rapp tells Defence Secy: 'Instead of rehabilitating terrorists, you should have prosecuted them'
Posted by Editor on January 11, 2014 - 7:12 am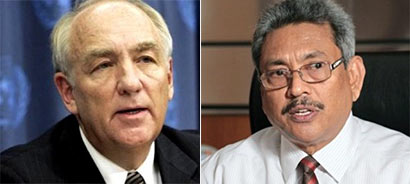 Sri Lanka's post-war rehabiliation project to reintegrate former LTTE combatants into society has come in for criticism from the United States. The US has faulted President Mahinda Rajapaksa's government for releasing those who had fought for the LTTE without prosecuting them.
Ambassador-at-Large, Office of Global Criminal Justice, Stephen J. Rapp has told Defence Secretary Gotabhaya Rajapaksa that LTTE terrorists should have been prosecuted instead of being rehabilitated.
The meeting took place at the Defence Ministry on January 6. He was accompanied by Michele J. Sison, US ambassador in Colombo.
Ambassador is on his second visit to Colombo since the conclusion of the conflict in May 2009.
The army captured nearly 12,000 LTTE cadres during the final phase of the Vanni offensive east of the Kandy-Jaffna A9 road. Of them over 11,000 were released in batches after rehabilitation.
A senior Defence Ministry official told The Island that the government had decided to release, after rehabilitation, the vast majority of those who had surrendered or been captured on the Vanni front or arrested in the South in a bid to reassure the Tamils. He said the government had involved the International Organisation for Migration (IOM) in the rehabilitation project, the official said.
Asked whether any other country had objected to rehabilitation of ex-LTTE cadres, the official emphasised that many countries including the Netherlands, Norway, Japan and UK financially backed the initiative. Responding to a query, the official said that the US had never faulted Sri Lanka's rehabilitation project before. In fact, many US officials had appreciated the project though the Tamil National Alliance (TNA) was largely silent, he said.
(Courtesy: The Island)
Latest Headlines in Sri Lanka