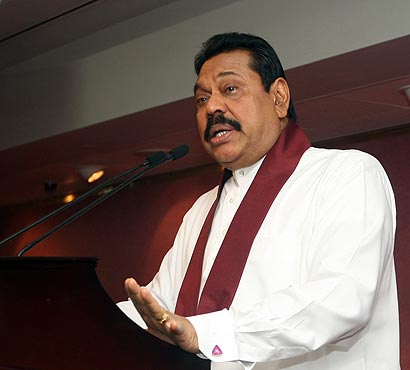 President Mahinda Rajapaksa declared that this year's May Day while rightfully honouring the workers should also be used as an opportunity to protest against the false propaganda being carried out before the world to belittle and undermine the victory achieved by the country.
Addressing electoral organisers of the UPFA at Temple Trees on Saturday he called on them to make this May day an occasion for a show of strength to voice their solidarity against the injustice perpetrated on the country before the world. "The time has come to show our strength and this should not be confined to expressing worker solidarity on this day but also to demonstrate against the injustice done to the country before the world", the President asserted.
He said several parties were harbouring a grudge against Sri Lanka for defeating terrorism. "I am, prepared to face any punishment on behalf of the motherland with great honour."
We will not permit the sacrifices of our heroic soldiers to be undermined by anyone.
The President said today the entire world enjoyed the benefits from the defeat of terrorism in Sri Lanka.
This is despite the claim of by most organisations that the LTTE, the most brutal terrorist outfit in the world, was invincible.
"Similarly you are today aware of the threats directed at us. This is being carried out in a well orchestrated manner before the world community. Certain elements who have descended to the lowest form of politics failing to making a distinction between the country and party politics and not hesitating to denigrate the country due to greed for dollars and influenced by certain political idealogies attempted to paint a wrong picture of the country before the world.
"This was the situation at that time. It was left to us to pull out the country from this morass". He said "we spent over Rs. 2,000 billion on the North to speed up development there. But today the picture being painted is of displaced persons and the blatant falsehood of child soldiers being tortured".
President Rajapaksa emphasized that the law applied equally from the Prime Minister downwards and no one was immune to the law.
"We have today released a large number of child soldiers. Similarly suspects have been released in large numbers. They have been rehabilitated and absorbed into society as productive citizens".
The President also said today not only the North but the entire country was free of terrorism. He recalled how former President Premadasa was killed by a terrorist bomb on May Day.
"We liberated the country somehow and today all enjoy peace and freedom.
We saw how the people moved about freely this New Year attending to their task free of fear and tension. There were times when May Day was not held in this country due to fear of terrorist attacks. Today with total peace, we are confident of holding this May Day on a grand scale".
Courtesy: Daily News