Andrew De Silva Wins Australia's Got Talent
Posted by Editor on July 26, 2012 - 10:27 am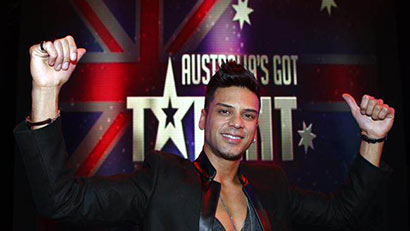 An emotional Andrew De Silva has won the heart of the nation, voted the winner of Australia's Got Talent 2012 and the $250,000 grand prize at the Grand Final Decider.
After illness forced him to leave chart-topping 90's R&B group CDB in the 90's, AGT was singer/songwriter Andrew's last chance to try and resurrect his music dreams and the opportunity to share his catalogue of original songs with the nation. Tonight he proved victorious with a symbolic welcome back to the industry, topping the public vote and triumphing over Tasmanian country band, The Wolfe Brothers.
Andrew was overwhelmed by the result "It was just an amazing moment. This is all a dream… I feel amazing. It's just such a beautiful way for it to come to an end and in a way it's actually a new beginning."
Andrew paid tribute to runners up The Wolfe Brothers saying, "I was so happy to be up there with those guys, I have much so respect for them. It's real music as well, so for both of us to be up there together is incredible and such a positive achievement for original Australian music."
The Australia's Got Talent Grand Final Decider opened with a show-stopping medley from all eight grand finalists – singer/songwriter Andrew De Silva, country band The Wolfe Brothers, dance troupe Kookies and Kream, quick change artists Soul Mystique, singer/songwriter Joe Moore, acrobatic group Odyssey, beat boxer Genesis and stripper Dylan Yeandle as well as favourites from throughout the series.
The talent of the dance acts throughout the series was highlighted with a performance from Ev & Bow, Outside The Box and Circotic, laughs were a-plenty with a comedy smack-down from comedians The Nelson Twins and Sam McCool and 2011 alumni The Old Fella and Ben Price and this year's singer/songwriter's Mark Lowndes, Owen Campbell, Andrew De Silva and Joe Moore collaborated to pay tribute to their favourite artists.
2011 X Factor finalist Johnny Ruffo also performed his new single 'On Top'.
Y TV
Latest Headlines in Sri Lanka