Another 100 mw to be added to Kerawalapitiya power plant
Posted by Editor on July 26, 2012 - 8:23 am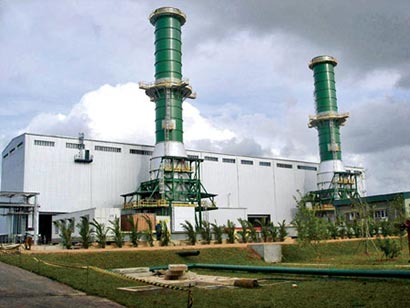 The Ceylon Electricity Board (CEB) yesterday announced that power generation capacity of Kerawalapitiya Yugandanavi power plant which was disrupted due to a technical fault, has been restored at 200 MW and another 100 MW will be added on July 30.
Power and Energy Minister Patali Champika Ranawaka made an inspection tour of the Muthurajawela Power Station and held discussions with administration and technical officers regarding the technical fault.
The minister pointed out that since the power plant had continuously functioned round the clock during the last five months it was a big boost to the national power grid. He urged the officials not to be deceived by the falsehoods spread by certain parties and work towards the progress of the power station. He further sated that CEB incurred a loss of Rs. 200 million per day as 85 per cent of the power generation is by thermal power.
He said that steps are being taken to operate the Yugadanavi power plant from liquid gas (LND) by 2014 and some other power stations will also be transformed as LND power plants in the future, he said.
The restoration of the remaining capacity will be completed by local engineers of the CEB and the power capacity will be restored completely, he said.
Power plant chief operation Officer M. J. M. N. Marikkar said the news that power plant was not functioning due to scarcity of fuel was baseless and it has no any truth. The cause for the breakdown at the Lakvijaya Coal Power Plant in Norochcholai has been identified as a five-inch tear in one of thousands of tubes in the boiler economizer.
Three teams comprising local technicians and engineers were assigned to study the situation and find a solution to the breakdown. They had discovered the five-inch tear in one of tubes in the boiler economizer, causing water carried through the tubes to leak. Meanwhile, world fuel and crude oil prices increased again from the beginning of this month, the Petroleum Industries Ministry said yesterday.
According to ministry sources, the price of a barrel of Iranian lite crude oil increased by US $ 10 and the prices of several petroleum products such as diesel, petrol and kerosene oil increased by US $ 16 during the last three weeks.
The price of a barrel of Brent crude oil increased by US $ 9 and simultaneously the price of a barrel of Iranian crude oil and WTI crude oil increased by US $ 7 during the same period. Accordingly, a barrel of Brent crude oil increased to US $ 108.58 from US $ 96.38 and the price of a WTI crude oil barrel increased to US $ 92.66 from US$ 83.99.
Courtesy: Daily News
Latest Headlines in Sri Lanka