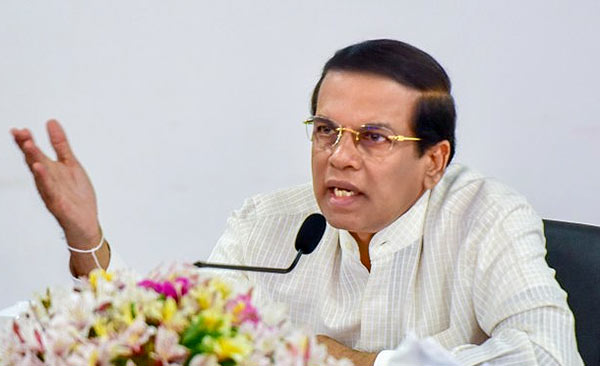 President Maithripala Sirisena yesterday (16), walked out of the Cabinet meeting after making an emotional speech, in which he criticized United National Party (UNP) members who were attacking him on the campaign trail, authoritative political sources told Ceylon Today yesterday.
Tracing his political roots, President Sirisena reminded the Ministers that he had reached the top after a hard struggle and taking the brave risk of contesting as the Common Candidate against a powerful incumbent.
He also said, he had given up a significant portion of the powers of an Executive President to the Prime Minister. He had also pointed out that he had not meddled in the Government.
He noted that the Presidential Commission of Inquiry into the Central Bank Bonds issue had not been appointed by him to attack the UNP.
He reminded the Prime Minister and the Ministers that he had opposed the appointment of Arjuna Mahendran as the Governor of the Central Bank.
He also pointed out that he had opposed the appointment of Ravi Karunanayake as Finance Minister and pointed out that the Government had ignored the advice.
He said, several UNP Ministers and Members of Parliament, including Sujeewa Senasinghe, Nalin Bandara, Harin Fernando, Chaminda Wijesiri and S.M. Marikkar are launching scathing attacks on him.
The President had then said, under these circumstances he could not…… work with the UNP Government and the cohabitation has to end. Finally saying "then you can run the Government on your own," he had got up from his seat and walked away.
Then Prime Minister Ranil Wickremesinghe and a group of senior Ministers had followed him and gone to the President's room at the Presidential Secretariat and spoken to him. They then persuaded the President to return and escorted him to the Cabinet room and the Cabinet meeting began in earnest.
Multiple sources from the Cabinet confirmed these details to Ceylon Today.
Thereafter, it was agreed at the Cabinet meeting that the UNP and the SLFP would not criticize each other, especially in the run up to the 10 February Local Government elections.
(Source: Ceylon Today – By Ravi Ladduwahetty and W.K. Prasad Manju)