Annual Navam Perahara of Gangarama Temple parades the streets
Posted by Editor on February 18, 2011 - 8:54 am

Onlanka News – By Janaka Alahapperuma
(Pix By : Nalin Hewapathirana)
The city of Colombo was transformed under the weight of 100 colourful elephants with vibrant colours, sounds and sights last night when the Navam Perahara of the Gangarama Temple paraded the streets the day before the Navam Full Moon Day on 16 February 2011. The Navam Perahara, which started in 1979, attracted more than a million spectators this year to the Gangaramaya Temple, at Hunupitiya, Colombo-02 on the banks of the picturesque Beira Lake.
President Mahinda Rajapaksa placed the relics casket on the tusker before the commencement of the Perahara. Chief incumbent of the Gangaramaya Temple, Venerable Galaboda Gnanissara Nayaka Thera also participated in the occasion.
The annual event of Gangarama Navam Perahara is Colombo's grandest outdoor parade on the events calendar. It is one of the most colorful and prestigious Buddhist cultural pageants held in Sri Lanka. The event has as many as 1000 performers. Dancers and drummers from around the country join together to take part in a magnificent procession of more than 100 beautifully decorated elephants to displays of Sri Lanka's traditional forms of art and dance. All the participants add colour and vibrancy with their colourful traditional costumes.
Perahara also displayed the rich religious and cultural tradition of Sri Lanka, gathering hundreds of monks in colorful robes solemnly walking in the procession giving a unique sight, participating with grand pageant of elephants, dancers and entertainment groups. This prestigious Buddhist pageant draws visitors and performers from all over the island and large number of tourists from all over the world to coincide with this grand event, as this festival of culture, tradition and excitement portrays the spirit of the island of Sri Lanka.
Picture shows the President placing the casket with sacred relic of the Perahara on Rana Raja, the main tusker of the temple at the inauguration of the perahara.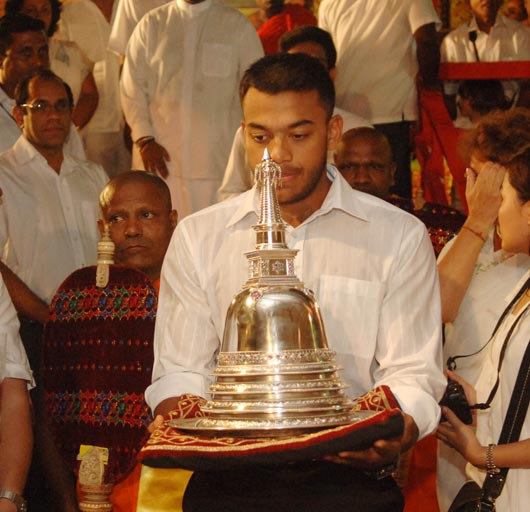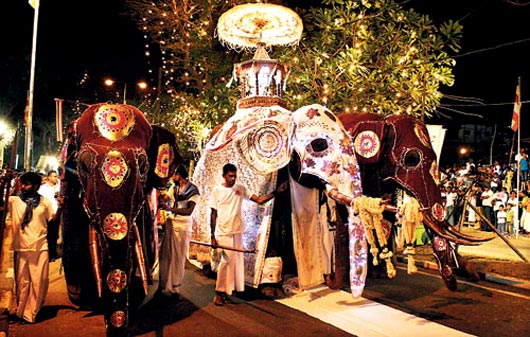 Latest Headlines in Sri Lanka