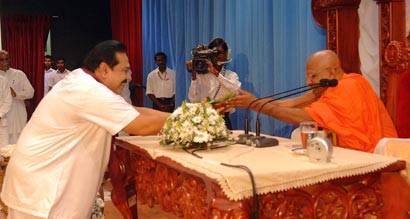 Onlanka News – By Janaka Alahapperuma
(Pix By: Nalin Hewapathirana)
The Dhamma desana (Buddhist sermon) organized at Temple Trees on every Poya Day was held to mark the Navam Full Moon Poya day today on 17 February 2011. The sermon was delivered by the Venerable Meegaswewe Somarathana Thera, Chief Incumbent of the Gangula Siri Parama Visuddharama Viharaya in Panadura. President Mahinda Rajapaksa, First Lady Shiranthi Rajapaksa and family members as well as a large gathering were present.
The special significance of the Navam Full Moon Poya day to the Buddhists all over the world as the Lord Buddha proclaimed for the first time a code of fundamental ethical precepts before a gathering of monks at the Veluwanarama monastery. It was on such a religious day that two leading disciples of the Lord Buddha, Saripuththa Maha thera and Maha Moggallana thera entered the order and also the Gauthama Buddha announced that within three months his Parinibbana would be taking place. Religious observances were held in temples throughout the country to mark the occasion.
The annual Navam Perahara of the Gangarama Temple, Colombo also paraded the streets last night. President Rajapaksa placed the relics casket on the tusker before the commencement of the Perahara. Chief incumbent of the Gangarama Temple, Venerable Galaboda Gnanissara Thera also participated in the occasion.