Anti-British protests in Sri Lanka over Oxford snub
Posted by Editor on December 3, 2010 - 6:58 pm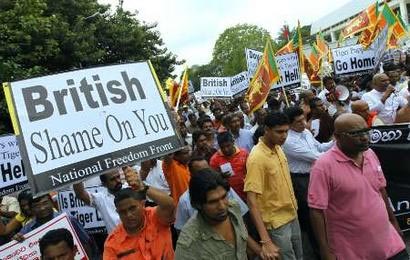 COLOMBO (AFP) – Hundreds of ruling party activists demonstrated at the British embassy in Colombo Friday to denounce Oxford University's debating society for cancelling a talk by President Mahinda Rajapakse.
"Down with anti-Sri Lanka policy!" shouted activists led by Housing Minister Wimal Weerawansa, who spearheaded protests against the United Nations in July that temporarily shut the agency's offices.
"British imperialists, we will never surrender to you," Weerawansa told the crowds amid loud cheers.
The demonstration followed protests in Britain to coincide with Rajapakse's visit to London. The Oxford Union, the university's debating society, cancelled his talk scheduled for Thursday after protests by Tamils.
The protesters in Britain accuse Rajapakse of war crimes while crushing Tamil separatists in the country last year. They called for him and key members of his entourage to be arrested.
On Thursday, Britain added to demands from Western allies, the United Nations and rights groups for an independent probe into possible human rights violations during the final months of fighting last year.
Sri Lanka's army defeated the Tamil Tiger separatists in May after nearly four decades of ethnic bloodshed in which the United Nations estimates between 80,000 and 100,000 people were killed.
Source: AFP
Latest Headlines in Sri Lanka