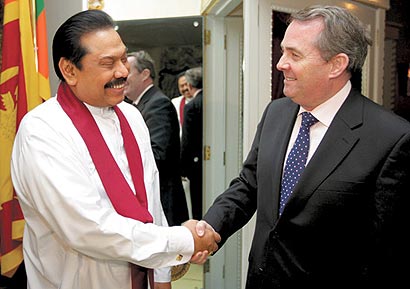 UK Secretary of State for Defence Liam Fox who called on President Mahinda Rajapaksa in London on December 1 discussed aspects of the wider sharing of power in Sri Lanka, and development assistance from the UK.
In discussions on the Government's proposals for sharing power among all communities, President Rajapaksa explained that he saw the necessity for the local government authorities to be more strengthened, to ensure that the people in the different provinces would be able to have a greater say in the management of their own affairs.
He told Fox there were shortcomings in the implementation of the devolution sought by the 13th Amendment through the Provincial Councils, which necessitated action to make the Provincial Councils contribute more to the progress of the local government authorities.
He told the Secretary of State for Defence that he envisaged the strengthening of local administration at the grass roots level through village councils, in keeping with the necessity to have policies for power sharing coming from the people at the grass roots level.
Responding to Liam Fox's interests in the constitutional process for power sharing, President Rajapaksa said that discussions were already under way with Tamil political parties that agreed to work within a united Sri Lanka, and that he would like to see the proposals for change to come from the new political leaders of the Tamil people, instead of imposing solutions from above, that would be counter productive.
The President and Fox discussed areas of assistance to Sri Lanka from the UK, especially in areas of infrastructure development, particularly in the North and the opportunities now available in Sri Lanka for investment by the private sector in the UK .
There was agreement that the friendship between Sri Lanka and the UK should be strengthened in the new situation of peace and moves for reconciliation in the country.
Source: Daily News