Anupam Kher to open acting school in Sri Lanka
Posted by Editor on June 5, 2010 - 2:10 am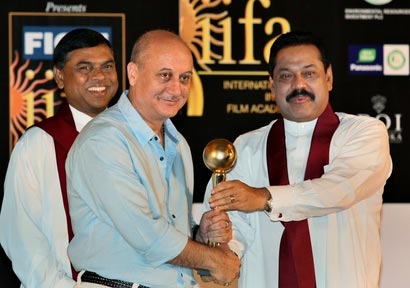 Veteran actor Anupam Kher today said that the Sri Lankan government has requested him to open a branch of his acting school, 'An Actor Prepares' in the country.
The 55 year-old-actor, who was felicitated with the CNBC-IIFA global leadership award for his contribution to the field of art by President Mahinda Rajpaksha here at the IIFA Global Business Forum admitted, "he is in talks with the authorities on the modalities."
The acting school in it's fifth year now, has an alumni list that include stars like Hrithik Roshan, Abhishek Bachchan, Kunal Kapoor and Deepika Padukone.
It has branches in Mumbai, Chandigarh, Ahmedabad and UK.
Kher also interacted with the Sri Lankan film students during a workshop.
He said the meeting with young minds was fruitful and there was no dearth of talent in the country.
PTI
Latest Headlines in Sri Lanka