Anuradhapura courts fire destroys record room
Posted by Editor on January 25, 2011 - 9:13 am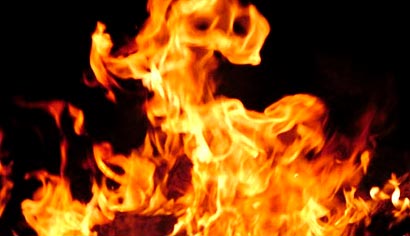 A fire broke out in the Anuradhapura Magistrate courts early yesterday morning causing extensive damages to the record room.
The fire was doused after several hours by the fire department attached to the Anuradhapura Municipal Council.
A spokesman at the fire brigade said that nearly seven fire brigade vehicles were engaged in dousing the fire.
The policemen on duty at the courts premises have alerted emergency service. However, the police have also detected a window open in the records room which they were investigating whether it could be a criminal act as a number of important records and documents have been destroyed as a result of the fire.
Division Four Senior DIG Jayantha Gamage said that the windows and the doors were intact at the time when the fire broke out and they were opened and broken by the fire brigade officers.
"Most of the documents and records were related to traffic and alcohol cases. The most important documents were in safes and they were not damaged," he said.
"We will look at the report that will be issued by the Government Analyst and then take necessary steps," DIG Gamage said.
The police have initiated a special inquiry into the incident under the directions of senior DIG Jayantha Gamage.
Source: DM Online
Latest Headlines in Sri Lanka