Apsara agitates overseas for SF's release
Posted by Editor on September 22, 2010 - 7:15 pm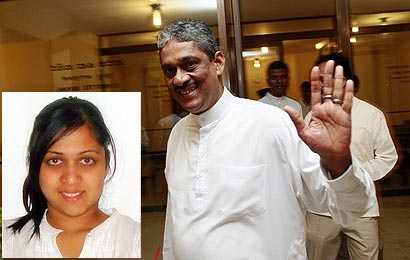 Sarath Fonseka's daughter Apsara is to appear in overseas protest rallies demanding the release of former Sri Lankan Army commander (then) general Sarath Fonseka and the upholding of democracy in the country, sates the Janatha Vimukthi Peramuna (JVP).
Apsara Fonseka is to take part in several demonstrations along with DNA Parliamentarians Anura Kumara Dissanayake, Arjuna Ranatunga and Tiran Alles.
Protests are to be staged in Milano on September 26, in Paris on October 02 and in Rome on October 3.
Leaders of several political parties and organizations are scheduled to participate in these protests, claims the JVP.
Meanwhile, the Chief Prelate of the Malwatte Chapter Ven. Thibbotuwawe Sri Sumangala Thera has told Sarath Fonseka's wife Anoma that the four Prelates would discuss Mr. Fonseka's plight and advice President Mahinda Rajapaksa on the issue.
DNA Parliamentarian Vijitha Herath accompanied Mrs. Fonseka to meet the Prelates this morning (Sept. 22).
Mr. Herath had stated that the DNA is to take Sarath Fonseka's case to the International Parliamentarians Union (IPU) and the Human Rights Commission. In addition, Anura kumara Dissanayake said they would take the matter up with the Commonwealth Parliamentary Association as well.
Ada Derana
Latest Headlines in Sri Lanka