Aralaganwila Turns battle field STF rushed to the scene
Posted by Editor on January 5, 2015 - 7:35 am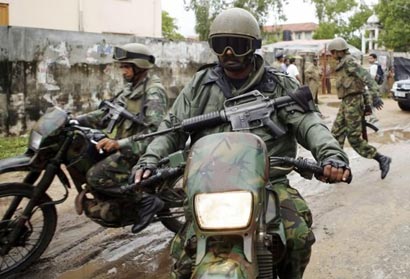 The Special Task Force (STF) has been deployed in Aralaganwila after several incidents of violence and unrest have been reported in the area since last Monday (29). Police spokesman, SSP Ajith Rohana said that a special team had been dispatched to conduct investigations into the incidents.
In a similar incident of intimidation, a cab and two party offices of Sirisena were damaged while 08 UPFA offices were also attacked. Five persons, on both sides, have been injured.
Gun shots had been fired towards the NDF office in Pola Junction, Aralaganwila, police said.
On 29 December 2014, Former North Central PC Member Janaka Samarasinghe, who manages the Aralaganwila common Opposition Office, was assaulted by an armed group that had arrived in five defender vehicles. They had vandalized the common Opposition office and had assaulted Samarasinghe with a bottle. He was later admitted into the Polonnaruwa Hospital. Campaign for Free and Fair Election (CaFFE) has identified Anura Athukorala (former Secretary Peshala Jayarathne), Dimbulagala PC Member Ananda Wijayaraja, Dhammika Nishantha and Ven. Devamiththa Thera as some of the attackers. SSP Rohana however, stated that he was unaware of the identities of those who attacked Samarasinghe.
UPFA offices in Weheragala, Aluthoya, 9th Mile Post Aralaganwila, Hatheyaya, Medagama and Galthalawa were attacked.
Dimbulagala UPFA PS member Dhammika Nishantha had been assaulted while a vehicle carrying UPFA Dimbulagala PS member Keerthi Bandara's supporters were also attacked.
(Ceylon Today)
Latest Headlines in Sri Lanka