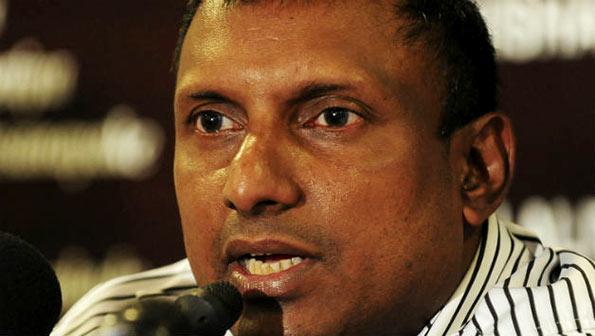 Selection Committee Chairman Aravinda de Silva has finally come forward to reply the strong criticism made by former captain Lasith Malinga and former Selection Committee Chairman Kapila Wijegunawardene while accepting the responsibility for Sri Lanka's group stage exit in the recently concluded ICC World Twenty20 held in India.
De Silva who was appointed as Selection Committee Chairman on 8 March made a couple of changes to the team by omitting Niroshan Dickwella and Jeffery Vandersay and bringing in fast bowler Suranga Lakmal and batsman Lahiru Thirimanne.
Lakmal did not feature in a single game while Thirimanne scored only 14 runs (6, 5, 3 and 0) in four innings batting at number three yet de Silva defended Thirimanne saying he is the most technically correct batsman in the team and said Sri Lanka should persist with him.
"We received an email from Malinga where he stated that he would be fit enough to play after 17 March and that's why he was selected. I don't know what he is saying now. Anyway, he may be under pressure. We should sympathize with him. He has had a good career and will be fit again and we will be able to see what time he will be fit and for what type of matches. There are players who are invaluable for the team even at half fit stage than some of the other players. So, we wanted him to play at least in the important matches. Also, the team informed that a left-arm spinner will be of great importance, so we omitted Jeffrey Vandersay from the squad. But later, when they went to India they realized that a leg-spinner will be a valuable asset considering the conditions so we included him.
Meanwhile, when I was in Dhaka during the Asia Cup I met the players and I have never seen them so down mentally, and that's why I accepted this post. I said I don't need even the allowances and will only work till 30 April" said de Silva who made these observations while participating at the discussion organized by the Save the Sri Lanka Sports Foundation.
Crisis in the team
De Silva further said that even though he doesn't like to go into details there was in fact problems within the team. There was a request from the Head Coach Graham Ford too where the SLC had demanded the selectors to do some necessary changes which had been refused by the previous Selection Committee, and that was when de Silva was asked to step in and sort out the selection.
The deadline for the final selection was 8 March, the same day de Silva was appointed.
Former Sri Lanka T20 Captain and star fast bowler Lasith Malinga made controversial remarks even while he was travelling to India for the World T20, where Sri Lanka faced a group stage exit. He pointed out that the new Selection Committee selected him for the team despite his request not to include him due to his injury concern.
Controversial remarks
Former Selection Committee Chairman, Kapila Wijegunawardene also made controversial remarks about selections at the last minute, where he said that his committee wasn't informed about the possibility of changing the World T20 Squad after the Asia Cup, while also questioning the legality of the new Selection Committee.
De Silva also expressed his views about the current status of Sri Lanka cricket and things which need to be done in going forward, where he said the quality of coaches at junior level is much important in developing good cricketers.
"I had a coach, who also coached National cricketers at the age of 11, and I gained invaluable knowledge through them, and by the time I was 17-18 I was ready to play for Sri Lanka. But today, even National cricketers are not getting such knowledge.
We should have good coaches and coaching development programmes. I have seen school cricket where the coach is captaining the team standing near the boundary line and focusing on winning more than anything and securing his job than developing players. This way, young players won't learn anything.
They should be allowed to make mistakes so they could learn at a young stage" said de Silva.
De Silva also pointed out the lack of a National Policy and a cricket development plan which should run continuously despite the change of the governing body from time to time.
"The decision of the Cricket Committee, the plan and policies to develop the game and players in Sri Lanka should continue for a required period of time despite changes in the governing body from time to time with the elections.
That way we could ensure that the player development and other areas of cricket in the country is developed despite the change in heads of SLC and so on," said de Silva.
He also said that Sri Lanka is not making use of the services from the cricketing brains of former cricketers, where the SLC should have plans to develop the player's skills other than cricket and establish a platform for them to have post cricketing careers such as coaching, commentating, umpiring, administration etc.
(Source: Ceylon Today – By Anjana Kaluarachchi)