'More and more bank customers converting their savings accounts into fixed deposits'
Posted by Editor on April 6, 2016 - 7:31 am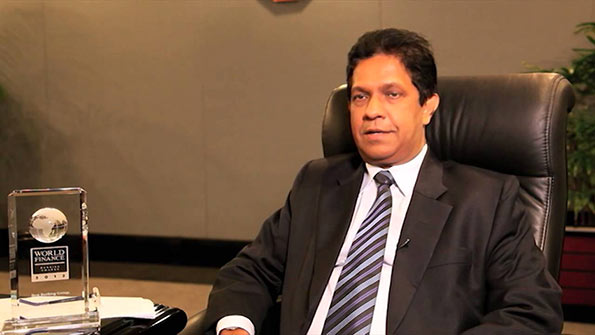 Sampath Bank Plc Managing Director Aravinda Perera said that there are a number of customers who are now converting saving accounts into fixed deposits due to the ever increasing interest rates offered by banks.
"Right now there is a drop in deposits in every bank and financial institution and in the future there would probably be an increase in the interest rates, especially of fixed deposits.
"Therefore, many customers would convert their savings accounts into fixed deposit accounts, Perera said at the Colombo Stock Exchange-organized Sampath Bank bell ringing ceremony at the CSE recently, marking the first working day of the month in stock trading.
Sampath Bank PLC Group, had an asset base of over Rs.500 billion with net profits rising by 15.2 percent year-on-year (yoy) to Rs. 1.53 billion due to higher growth in loans to customers, non-fund based incomes and reduced provisions against possible bad loans, the Bank's interim results showed.
Under this development, Sampath Bank Plc is planning to penetrate overseas markets as well. "At present we have got a representative office in Myanmar and looking at possibilities of venturing into that market in a significant manner. Further, we have got an office in Bangladesh, which is also doing well, Perera said.
"The bank which had over 25 percent exposure levels to gold backed loans three years ago has now narrowed its exposure to 3.5 percent by the end of 4Q'15 from 7.9 percent a year ago, as a result of its deliberate efforts to trim the bank's exposure to the precious metal of which the value was falling, he said.
The Bank's asset growth was largely funded by the growth in deposits which grew by Rs.67.5 billion to Rs. 407.2 billion. It is notable that the 53.9 percent or Rs.36.4 billion of the total deposit growth has stemmed from the low cost deposits, current and savings accounts (CASA). "The CASA ratio improved to 47.6 percent from 46.2 percent a year ago, he said.
"However, the Net Interest Margin (NIM) narrowed to 3.64 percent from 3.95 percent a year ago. The drop in NIM in 2015 was due to the falling market interest rates and drop in the higher yielding pawning portfolio in the asset-mix, which was done as part of the ongoing risk management strategy to achieve a healthier asset-mix, the bank said in a statement. Meanwhile, for the year ended December 31, 2015, the banking group posted a net profit of Rs. 6.62 billion (EPS of Rs.38.44), up 25.8%.
(Source: The Island – By Hiran H.Senewiratne)
Latest Headlines in Sri Lanka