I am committed to bring transformation required by the country – President
Posted by Editor on April 5, 2016 - 8:23 am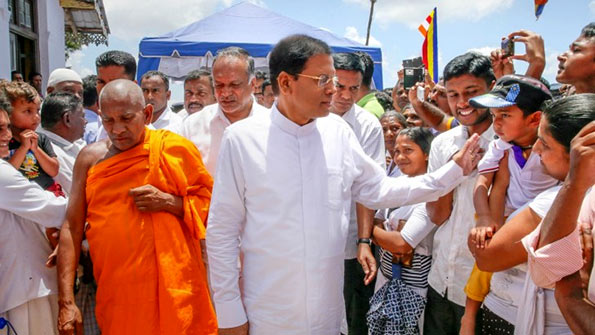 President Maithripala Sirisena says the people of Sri Lanka handed over the country to him on January 08, thus giving him the responsibility to bring in the required transformations for the country. "Whatever insults, slander and criticisms I have to face, I will fulfill that responsibility bestowed on me", he said.
The President made these remarks at the opening ceremony of the newly built 'Vahalkada' at Sri Sankagiri Temple in Welimada yesterday (April 4).
President Sirisena pointed out that everybody including the Buddha and Mahathma Gandhi who endowed a great service to the world, faced with allegations and accusations.
"Our country today is faced with the common conditions faced by every developing country in the world. I am committed to bring about a higher living standard for the people of the country, by facing all those challenges", he further stated.
A top priority will be given in creating a moral and disciplined society under the initiatives of the new government, the President said that adding to build a moral society, religious centres should be strengthened. The government intends to establish a special fund to develop the facilities at the temples located in rural areas, he said. The President also said the Government is also committed to develop other religious places too.
First, the President engaged in religious observances at the Welimada Sri Sankagiri temple and secured blessings. Subsequently, he met with the Chief incumbent of the temple, Ven Bibile Gunananda Thero and inquired into the well being of him and offered Ata Pirikara.
The Maha Sangha including Ven. Nuwaraeliye Chandrajothi Thero, Ven. Medawala Sugathasoma Thero, Minister Navin Dissanayake, State minister Ravindra Samaraweera, Governor of Uva Province, M. P. Jayasinghe, Chamara Sampath Dasanayaka and many others participated in the event.
(President's Media)
Latest Headlines in Sri Lanka