Arjuna removed from Ports Ministry amidst turmoil over H'tota harbour deal with China
Posted by Editor on May 23, 2017 - 7:34 am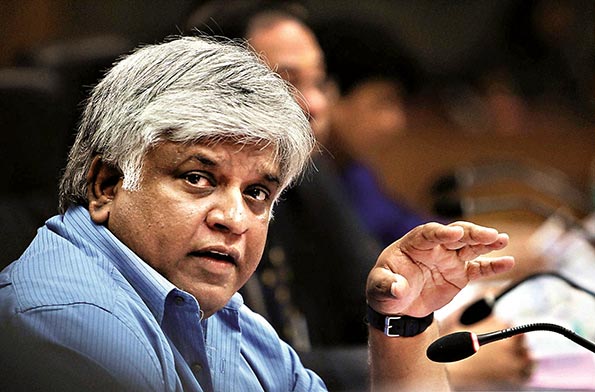 Ports and Shipping Minister Arjuna Ranatunga who has thwarted repeated attempts to finalise a controversial agreement with China on the Hambantota port lost his ministerial portfolio to Mahinda Samarasinghe in the mini Cabinet reshuffle yesterday.
Of the changes made yesterday in keeping with an agreement between President Maithripala Sirisena and Prime Minister Ranil Wickremesinghe, the SLFP took over the Ports and Shipping Ministry from the UNP.
Ranatunga received Petroleum Resources Development Ministry previously held by SLFPer Chandima Weerakkody.
Galle District MP Weerakkody was given the Skills Development and Vocational Training Ministry, previously held by Mahinda Samarasinghe.
Having switched his allegiance to the UNP, Ranatunga contested the Gampaha District on the UNP ticket at the last general election in August 2015. Samarasinghe was brought into parliament on the UPFA National List after he failed to retain his Kalutara seat.
Minister Ranatunga and his brother, Dhammika, Chairman, Sri Lanka Ports Authority (SLPA) succeeded in amending what they called an agreement inimical to Sri Lanka. However, Sri Lanka and China hadn't been still able to finalise the agreement in spite of several rounds of talks.
Ports and Shipping Ministry has changed hands in the wake of Ratnapura District MP Vasudeva Nanayakkara on behalf of the Joint Opposition moving Supreme Court against the Hambantota port deal.
Dhammika Ranatunga is on record as having said that the Hambantota deal had been finalised without the consent of the Ports and Shipping Ministry hence their decision to oppose it. Ranatunga alleged that repeated attempts had been made to work out the agreement in favour of the Chinese.
Political sources pointed out that the Ports and Shipping Ministry had been brought under the SLFP at a time the yahapalana government was on a collision course with a powerful trade union collective opposed to Indian role in Trincomalee port development as well as Trincomalee oil tank farm project.
Both Ranatunga brothers, Arjuna and Dhammika repeatedly attacked the Hambantota port deal through the media much to the discomfort of those involved in negotiations. Development Strategies and international Trade Minister Malik Samarawickrema played a crucial role in working out the Hambantota port deal.
Political sources said that the JO would closely watch developments, particularly a change in government's approach to Hambantota port deal in the wake of ministerial change. Sources also speculated about Dhammika Ranatunga being replaced. Dhammika Ranatunga couldn't be contacted as he was out of the country.
(Source: The Island – By Shamindra Ferdinando)
Latest Headlines in Sri Lanka