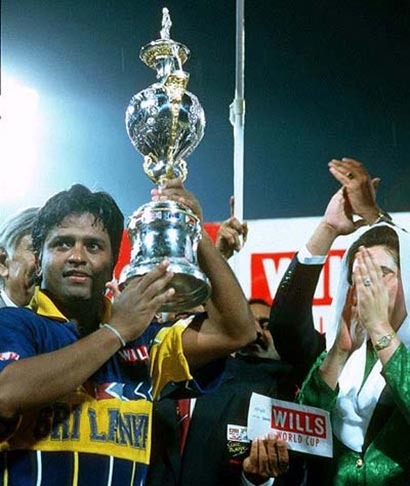 World Cup winning Sri Lankan captain Arjuna Ranatunga says that he was deeply saddened to learn that the World Cup trophy that the country won under his leadership 15 years ago was damaged and that two rivets attached to it had been stolen.
The Island reported on Thursday the damage done to Sri Lankan cricket's greatest possession allegedly damaged when it was taken for the Deyata Kirula Exhibition. Although Sri Lanka Cricket earlier denied the report, by yesterday evening SLC Chief Upali Dharmadasa promised to renovate the trophy in two weeks time.
"It's sad that these things are happening while we are alive. A lot of sacrifices had been made by not only the 14 players who played in the tournament, but others who worked behind the scenes for years and it seems that people running cricket at the moment simply don't care. I hope all players who were part of that World Cup squad will condemn what had happened in the strongest possible way," Ranatunga said.
"It's disgusting and someone yesterday told me that we should not be upset, for people who run cricket at the moment consider the sport as a business," Ranatunga added.
Ranatunga added that a lot of people including those who saw the Deyata Kirula Exhibition had called him after hearing that two rivets of the World Cup trophy had been stolen and that they had informed him that the World Cup trophy was neglected during the exhibition.
Arjuna's younger brother Nishantha is the Secretary of Sri Lanka Cricket and once claimed that cricket was a business for him and has been the subject of several cricket related controversies.
Once when he was the Secretary of the Cricket Interim Committee Nishantha had the audacity to sign a deal for Sri Lanka's Champions League team with a sex related product (Musli Power) on a Poya day in the sacred city of Dambulla.
The Interim Committee of which Nishantha was a key figure is blamed for SLC's current financial crisis running into several billions of rupees.
Courtesy: The Island