LLRC can be the basis to solve national issue – Ranil
Posted by Editor on February 17, 2012 - 8:09 am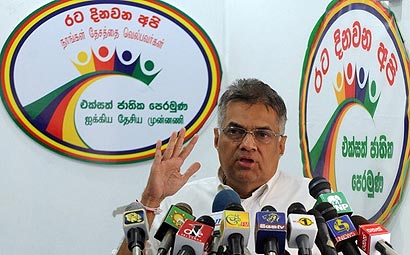 The Lessons Learnt and Reconciliation Commission (LLRC) findings despite its shortcoming could be the basis of an internal solution, if the government and the opposition all work together; Opposition Leader Ranil Wickremasinghe said addressing a media briefing held at the UNP headquarters Sirikotha.
The UNP Leader also strongly stated that although the UNP supports the LLRC this will not extend to the political continuous of the government. He added that it was difficult for the UNP to support the political continuous of a government which is directly and indirectly killing its own people, by taxation, increasing prices and killing people who agitate due to the cost of living.
He noted that the UNP would continue with its agitations against these with campaigns starting from tomorrow.
Speaking on the UNP stance on the LLRC report, he added that there were several shortcomings in the LLRC report bus nevertheless that it can be a foundation for all parties to come to an internal solution.
Pointing out a few of the shortcomings, he noted that firstly although the government stated that the report would clarify all matters relating to the government and Sri Lanka during the war, that it was not done so and thus several shortcomings existed in the report.
He added that the country had been left in a "state of national trauma" due to the three-decade long war and people had been displaced for a long period, it would take a period of time for the community life to return. He said it was important that the report investigate all aspects, charges and listen to all points of view that are acceptable to everyone.
Secondly, he added that regarding the land issues the UNP disagreed with the LLRC recommendations, and that the UNP believes that land disputes must be addressed through legislation, and that qualified public servants and circulars could not be enough.
Wickremasinghe further stated that the UNP agreed with many of the recommendation and that it commended the Commission regarding the pointing out of the weakening of the democratic intuitions.
While noting the UNP disagreed with several recommendations, it had given its own viewpoint on those matters including the Constitutional Court, Independent commissions and media freedom in the country and commenting that it would be the basis of their "Democracy Plus" campaign.
The UNP further stating that the government had accepted the recommendations questioned the good faith of the government and requested the government to implement the recommendation that all parties agreed on first and then hold discussion on the matters, which raised issues.
The UNP called on the government to discuss these matters with the opposition and to come up with a road map for a solution.
Courtesy: Ceylon Today Online
Latest Headlines in Sri Lanka