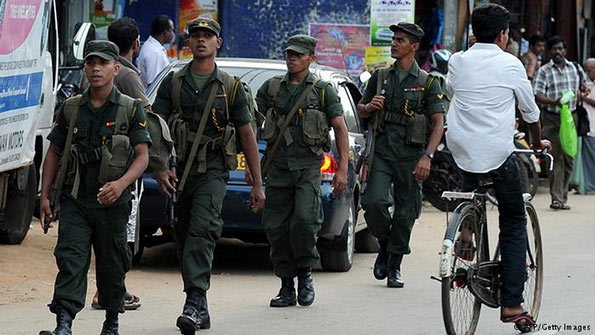 The Sri Lankan Army has maintained that its involvement in the Northern Province is limited "only to demining, construction works and infrastructure development in connection with the resettlement of people."
Responding to a questionnaire sent by The Hindu last month on the status of the Army's presence in the Northern and Eastern Provinces, it said on Thursday: "We have almost totally disengaged [ourselves] from non-military activities."
The Oakland Institute, a US-based policy think tank, had earlier reported the Army has "expanded" itself into "non-military activities" and is "engaged in large-scale development, construction projects and business ventures".
On a question about the Army's plan to close down camps in the North, it said since the end of the "humanitarian operation" in May 2009, the deployment of troops had been "regularly reviewed" based on "threat assessment, national security concerns and strategic implications".  Accordingly, troop deployment had been "readjusted on several occasions. This is a continuous process and the number of troops and bases will be in accordance with the national security concerns."
Last month, a statement put up on the website of the Ministry of Defence stated that 59 camps in the Northern Province were closed down since May 2009. No camp was wound up this year. There were also media reports, quoting Major General Nandana Udawatte, that the number of army camps came down from 152 to 93 [during 2009-2014].
Divisions
The Army also denied reports that 75 per cent of its divisions are located in the North, but refused to give the exact figure. "No army in the world would disclose actual numbers." It pointed out that "even identification numbers of army formations, naval and air fleets in many countries are not disclosed."
It said the troop deployment adjustment and the release of private lands [taken over by the Army during the War] are "continuous and ongoing processes". It confirmed that in the last five years, it has released 19,159 acres in the Province, including 6,258 acres in Palaly.
The Army described the Thalsevana holiday resort being run by it in Kankesanthurai of Jaffna as an "R&R [rest and recreation] facility". It also said the resort was open to the public "in a limited manner" when rooms were vacant.
In late May, Chief Minister of the Province, C.V. Wigneswaran, told an international tele-press conference that President Maithripala Sirisena had made an offer to him to take over the resort and run it as a conference hall. State Minister of Defence Ruwan Wijewardene told The Hindu then that no decision had been taken as there were two views within the government on the issue.
(Source: The Hindu)