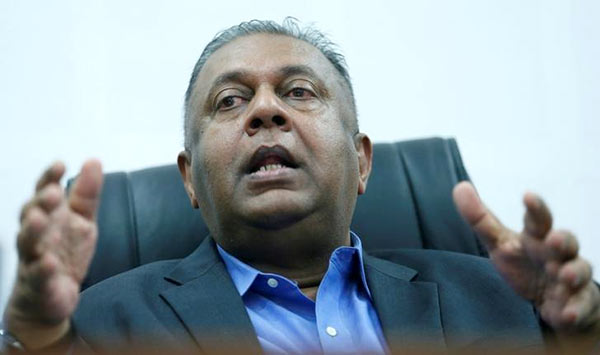 I was dismayed when I was told that 82% of the total tax revenue collected by way of indirect taxes is borne by the normal citizen, Finance and Media Minister Mangala Samaraweera said.
The Minister was addressing tax payers and intended tax payers of Matara who attended an awareness programme on the new Inland Revenue Act No 24 of 2017 which will be implemented from April 1,2018.
"I have proposed to change this ratio which may be the highest in the world by introducing a new Inland Revenue Tax Act which will broaden the percentage of direct tax payers.
In the past, it was the honest tax payer that was burdened with more and more taxes," the Minister said.
"Likewise in the past, taxes had been used as a political weapon as the Minister of Finance had the discretion of granting relief or imposing more taxes at his whims and fancies.
Once the new Act comes into effect, this would not be possible," Minister Samaraweera said.
"We intend to conduct awareness programmes on the new Income Tax Act throughout the island before it becomes effective from April 1,2018. I am happy that the first one was held in Matara. Looking back in history, Sri Lanka was known as a commercial center,"he said.
"Enterprise Sri Lanka was introduced to regain our lost status as a commercial center. We have also introduced a scheme that the 'Project Proposals' will be evaluated and accepted as collateral for new enterprises and entrepreneurs rather than the present need of guarantors," the Minister added.
Commissioner General of Inland Revenue Ivan Dissanayake said most of the tax revenue collected by the Department of Inland Revenue was spent on providing education, health services, Security Forces, providing and maintaining infrastructure.
"The Finance Minister while presenting his budget speech mentioned that in the next three years, namely 2018, 2019 and 2020, Sri Lanka has to repay capital payment of Rs. 7,000 billion excluding interest. In 2018, Sri Lanka has to repay debts of Rs.1,970 billion excluding interest. The expected income for the year from all sources including the Department of Inland Revenue, Department of Customs ect. would only be approximately Rs.2,260 billion!" Dissanayake said.
"Surveys have revealed that the major portion of a family's income is spent on tuition fees, doctors' fees and medical bills. Hence, we request tuition masters and doctors to voluntarily come forward and pay the states due share of their income," he added. Minister Mangala Samaraweera presented a plaque of appreciation to the highest tax payers resident in the Matara and Hambanthota districts while the Commissioner General of Inland Revenue presented the Minister with a plaque off felicitation for taking the initiative of introducing the New Inland Revenue Act.
(Source: Daily News – By Priyan De Silva)