Aus govt's plan for 157 asylum seekers potentially illegal: lawyers
Posted by Editor on July 26, 2014 - 3:39 pm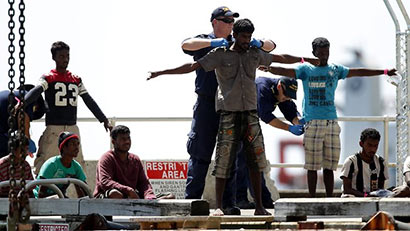 Refugee lawyers say the federal government's plans for Indian officials to interview 157 asylum seekers when they arrive on the Australian mainland is unprecedented and potentially illegal under refugee law.

Immigration Minister Scott Morrison said on Friday that the group of mostly Tamil asylum seekers, who have been held on a Customs vessel on the high seas for almost a month, will be moved to the Australian mainland.
The asylum seekers will be taken to Cocos Island on Saturday then flown to the Curtin Detention Centre in remote Western Australia.
Mr Morrison said the group will undergo identity checks from Indian consular officials and that none will be resettled in Australia. India has agreed to take back any of its citizens and will consider taking Sri Lankan nationals who are Indian non-citizen residents.
Sources said most of the asylum seekers are Sri Lankan nationals.
Refugee and Immigration Legal Centre executive director David Manne said: "It is a fundamental principle of refugee protection that people should not have to deal with officials from the country they have fled from.
"People who are seeking protection should never be put in a position where they are exposed to officials from another country without a proper assessment first being made of their claims of persecution.
"It is completely unclear what proper role Indian officials have interviewing Sri Lankan asylum seekers."
Human rights lawyer George Newhouse, who has represented 48 asylum seekers in a High Court challenge against their detention at sea, said he was concerned confidential information about the asylum seekers would be handed to Indian officials.
"This is policy and process on the run – it's dangerous," he said.
Mr Newhouse said the government's decision had not affected the High Court challenge, which is due to be heard by the full bench of the High Court on August 5.
Asylum Seeker Resource Centre chief executive officer Kon Karapanagiotidis told the ABC: "It's unheard of – giving another government access to asylum seekers.
"If a person is found to be a citizen of a safe third country, that person will not be accepted as a refugee and will be returned home, so that's the role of the legal process, not the role of bringing in another government to do that.
"It's deeply problematic and I don't think it's fair. I question whether it is legal, and we have a legal process to deal with those questions."
On Friday Mr Morrison said: "I have been pleased to consent to the passengers being returned to Australia for the purpose of allowing Indian officials to determine identities and arrange where possible for the return of any persons to India. It is our intention that those who can be returned should and must be returned."
The official spokesman for India's Ministry of External Affairs, Mr Syed Akbarrudin, said it was not his role to respond to individual comments by Australia's Immigration Minister Scott Morrison regarding the fate of the 157 asylum seekers.
"Mr Morrison can say whatever he likes, we are not going to respond to any comments," Mr Akbarrudin said. "We have said all that we are going to say on the matter. We will not be adding to the statements we have made."
After winning India's general elections in May, new Prime Minister Narendra Modi has tried to forge closer ties with the Sri Lankan regime which is dominated by the Sinhalese ethnic group, another reason why India may be unwilling to accept the return of the Sri Lankan Tamil asylum seekers.
Earlier this month the Modi Government denied entry visas to members of a United Nations committee investigating alleged war crimes against Sri Lanka's Tamil minority during the country's civil war which ended in 2009.
– SMH
Latest Headlines in Sri Lanka