Australia presses Sri Lanka over war crimes claims
Posted by Editor on October 25, 2011 - 12:09 pm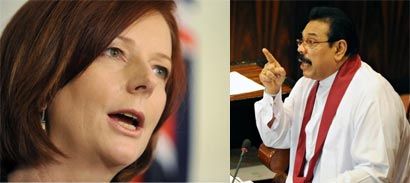 AFP News Report
Australian leader Julia Gillard on Tuesday urged Sri Lanka to address claims of serious human rights violations as a man filed war crimes charges against President Mahinda Rajapakse.
Sri Lanka has persistently denied that its troops committed atrocities while battling the rebel Liberation Tigers of Tamil Eelam, who were crushed in an offensive that ended in May 2009, bringing the 26-year conflict to a close.
But Prime Minister Gillard said the allegations were a concern.
"Australia and like-minded countries have been urging and will continue to urge Sri Lanka to address the serious allegations that have been made of human rights violations," she told Perth radio.
Rajapakse is due in Perth this week to attend the Commonwealth Heads of Government Meeting (CHOGM) and the issue is likely to be prominent on the agenda.
Rights groups say CHOGM has a moral and legal responsibility to hold the Colombo government to account.
Gillard's comments came as a Sri Lankan man who says he is "living testimony" to the massacre of Tamils in the conflict filed a war crimes case in Melbourne Magistrates Court against Rajapakse.
"I am a living testimony of the massacre that happened to the Tamil people in the final days of the war in Sri Lanka," said Arunachalam Jegatheeswaran, an Australian citizen.
"This alleged war criminal is coming to my country, Australia, and I want to make sure he is held accountable for the massacre of thousands of Tamils in 2009."
Gillard made it clear that no case could proceed without the government's say-so.
"No such legal action can be taken on an issue like this without the consent of the attorney-general," she said. "And the attorney-general hasn't received any request in relation to this matter."
She also noted that Australia has obligations under international law which extends immunity to visiting heads of state.
But Jegatheeswaran's lawyer, Lucien Richter, said he did not believe diplomatic immunity was an issue in this case.
"There is some authority to suggest that where crimes are of a substantial and international nature, such as war crimes or crimes against humanity, then effectively the authority of being head of state doesn't grant him immunity from those things," he said.
"Certainly the ICJ (International Commission of Jurists) in their submission have come to a simple conclusion that immunity would not be a barrier to this prosecution."
Australian police are reviewing a dossier submitted by the ICJ containing testimony from citizens who say they were attacked by government forces in the war's final days.
Jegatheeswaran, 63, a retired engineer and ethnic Tamil, returned to his homeland in 2007 to volunteer in Tamil hospitals, schools and camps for displaced persons, where he claims to have witnessed attacks by government forces.
"Patients who were in the hospital were killed and there were other patients waiting for treatment, they were killed," he told ABC television.
Rajapakse was not available to comment on the war crimes case, but in an interview with the official programme for CHOGM said his country was trying to build unity.
"This includes the Tamil people who were deprived of all democratic, fundamental and human rights by the terrorist organisation that claimed to be their 'liberators'," he said.
"Instead they caused such brutality to them, to our country, and also posed a threat to our region."
AFP News Report
Latest Headlines in Sri Lanka