Australian govt. tight-lipped on whether it will support international inquiry into Sri Lanka
Posted by Editor on March 24, 2014 - 4:22 pm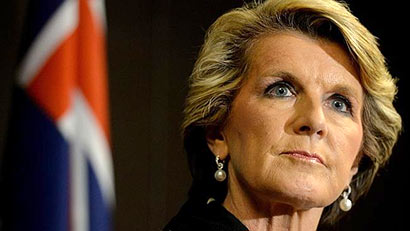 The Coalition government is continuing to sidestep whether it will support an international investigation into war crimes in Sri Lanka, despite Labor and the Greens now both backing it.
The US-backed resolution, to be debated by the United Nation's Human Rights Council this week, aims to enforce an international independent investigation into alleged war crimes, which could lead to the prosecution of current members of the Sri Lankan government.
Despite Foreign Affairs Minister Julie Bishop attending the debate it is unknown whether the Australian government will back the resolution.
While Australia is not one of the 47 members of the council who vote, it is able to co-sponsor the resolution if it backs the inquiry.
Opposition spokeswoman for foreign affairs Tanya Plibersek called for Australia to support the investigation on Monday, saying we should support our "usual allies" and that the national mechanisms by the Sri Lankan government had been so far unsuccessful.
"Our call for the Australian government is to support the draft resolution before the Human Rights Council is to reduce violations and abuses and puts us in company with all of our usual allies when it comes to foreign affairs decision making," Ms Plibersek said.
Under a Labor government in 2012 and 2013 the Australian government supported the Sri Lankan government to conduct their own internal investigations.
But Liberal Senator Michael Sukkar hinted that the Australian government may not support the external investigation, saying the government would rather work closely with the Sri Lankan government to improve accountability and progress on human rights.
"It is this approach rather than one that seeks to isolate the Sri Lanka government that we consider will ultimately achieve human rights," he said.
Mr Sukkar said the government was yet to receive the final text on the resolution and would "not be pushed into making a decision by the Labor or the Greens".
But time is running out. The council is set to meet on Thursday in Geneva.
In a letter to Minister Bishop, six eminent citizens including Chancellor of Southern Cross University, John Dowd, former foreign minister Gareth Evans, and former prime minister Malcolm Fraser have urged the government to support the investigation, saying the human rights situation on the island continues to deteriorate.
"A culture of impunity encourages commonplace torture, enforced disappearances and sexual violence," the letter wrote.
"This resolution is of real relevance to all citizens of Sri Lanka. Any credible investigation into violations committed by both sides would provide all Sri Lankan communities the space and environment to come to terms with crimes committed in their respective names.
"The Australian government must support this resolution, as without meaningful truth, justice and accountability for the alleged crimes committed during the war, there will be no genuine opportunity to set Sri Lanka on the path to reconciliation and lasting peace," the report said.
Ms Plibersek strongly supported the contents of the letter, saying it was impartial and focused on the facts, acknowledging there were "wrongs on both sides of the Sri Lankan conflict". (Sydney Morning Herald)
Latest Headlines in Sri Lanka