Authenticity of Balachandran Prabhakaran photos to be probed: Douglas
Posted by Editor on February 25, 2013 - 9:25 am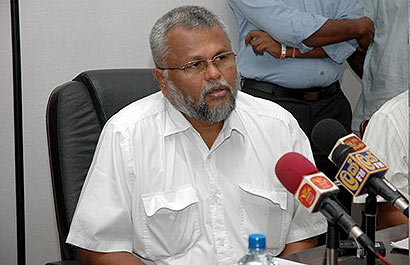 Sri Lankan minister Douglas Devananda has said an inquiry would be conducted into the authenticity of the photographs of the slain LTTE chief V Prabhakaran's son Balachandran, circulated by a channel.
The lankan minister for traditional industries and small enterprises who participated in St Antony Church's festival in Katchatheevu islet evaded a direct reply to a query on the involvement of Sri Lankan military in the alleged execution of Balachandran in the final days of the war against the LTTE in May 2009 but said that it was unfortunate. "It was unfortunate. We will inquire into it. The truth would emerge only after an inquiry. Nothing more could be said now," he told reporters at Katchatheevu on Saturday night. However, Devananda also refrained from clarifying if the probe would pertain to the alleged execution of Balachandran or how the photographs had surfaced in the international media.
The annual festival was held this year against the backdrop of widespread upheaval against the alleged war crimes committed by Sri Lankan military and the killing of Balachandran. To a query on Tamil Nadu chief minister J Jayalalithaa pulling out as the host of the 20th Asian Athletics Championships, Devananda said the decision was unfortunate. However, he urged Jayalalithaa to put an end to the Tamil Nadu fishermen crossing the international maritime boundary line (IMBL) to fish in the Sri Lankan waters.
Devananda had announced in the past that he would lead a mid-sea protest of Lankan fishermen in 5000 boats against "poaching" by Indian fishermen in Lankan waters, but had apparently postponed the plan. However, he said that if the problem persists, he would stage the protest.
Voicing concern about the practice of Indian fisherman crossing the IMBL, he said that indiscriminate fishing by Indian fishermen in the Lankan waters has affected the livelihood of fishermen from the island nation. "Government of India and state of Tamil Nadu should restrict the fishermen entering the Sri Lankan waters for fishing," he urged.
He accused the Indian fishermen of using the banned fishing nets which wipes out the marine life in the seas. A letter with regard to the issue has been sent to the Tamil Nadu chief minister, he said.  (The Times of India)
Latest Headlines in Sri Lanka