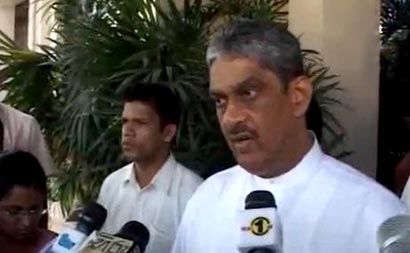 Commissioner of Elections Mahinda Deshapriya says that an investigation is underway into an incident where ballot papers used at the recent Presidential Election were found in the Kalagedihena area in Nittambuwa.
He added that if an official has committed a wrong, he would apologise for that.
A stack of ballot papers where a mark had been made before the Swan symbol, used during the recent presidential election was found in the Kalagedihena area in Nattambuwa.
Former Army Commander Sarath Fonseka who contested under the swan symbol during the recent presidential election met with the Elections Commissioner to discuss the matter.
"If the ballot paper had fallen off during transportation, then the duties have not been properly carried out. The responsibility lies with the Elections Commissioner and his staff. Until a court decision is reached in this regard we will continue  with our stance. Ballot Papers were stolen from across the country. Therefore, we have doubts," stated Leader of the Democratic National Alliance  Sarath Fonseka
"I can say that there has been no illegal or improper activities at any election. This was only caused by the negligence on the part of the official who was supposed to destroy the ballot papers. Since an investigation is underway I cannot give you all the details."
"But for now in addition to court action, how can we prevent problems like this? What was the mistake that was committed here? Could this have been prevented? Who should be held responsible for failing to use all mechanisms?"
"We have appointed a committee to look into this and make recommendations. When mistakes are made, the responsibility cannot be passed onto anyone else, so as the Elections Commissioner and the Head of the Elections Department, I will take responsibility for this. But I am extremely disappointed. I wish to seek forgiveness from the fore bearers of the Elections Department and the staff," stated Elections Commissioner Mahinda Deshapriya.
Source: News First