Banning websites: 'Govt bound to protect children from obscenity'
Posted by Editor on November 18, 2011 - 7:44 am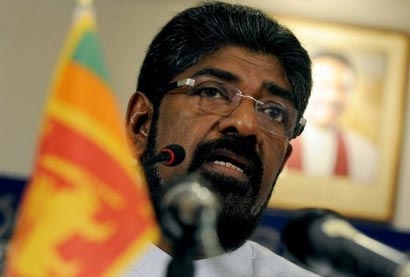 The government banned only a few websites which do not comply with 'the right to reply' concept, one of the key norms in a democracy. Sri Lanka has hundreds of newspapers, 54 radio channels, 16 television channels and some websites which respect the concept 'right to reply', Cabinet Spokesman and Media Minister Keheliya Rambukwella said.
Addressing the weekly Cabinet press briefing at the Government Information Department Auditorium yesterday, Minister Rambukwella said that all media which have an impact on the public should respect the concept of 'right to reply'.
"To respect it they should have a location where it is operated from a person or an institution which manages it and contact details.
But the banned websites did not fulfill any such requirements. The government and the Media Ministry have the sole responsibility of protecting children, the future generation, the country's reputation, its people and safeguarding national security. A large number of parents sent letters to the Media Ministry requesting it to act against websites containing pornography and obscene languages," the minister said.
Minister Rambukwella pointed out that within one day, the US banned 25 websites along with the Wikileaks website.
"Thailand has banned 48,000 websites and China has banned 15,000 websites. What the Sri Lankan government demands from websites is to get registered with the Media Ministry to avail of `the right to reply'. The government took this action after a delay, but other countries did it before Sri Lanka. Many websites have already been registered with the Media Ministry following the rule," he said.
The government or the Media Ministry do not need to wait for a court judgment to ensure the safety of the citizens and the country. The government cannot follow the rule of the jungle. It is the sole responsibility of the government and the Media Ministry to protect the Sri Lankan child community from pornography. It should protect people from character assassination. People have the right to reply. To do so, there should be a way to contact the relevant media, minister Rambukwella said.
Courtesy: Daily News
Latest Headlines in Sri Lanka