Basil remanded along with Ministry Secretary and DG Divineguma
Posted by Editor on April 23, 2015 - 5:52 am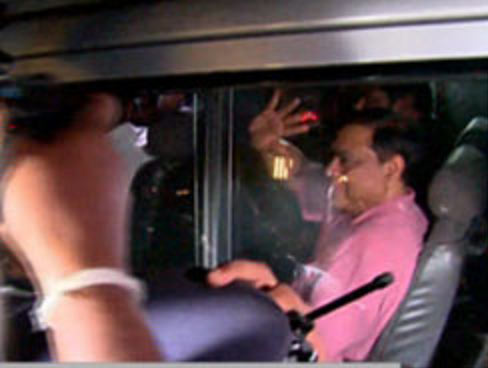 Former Economic Development Minister Basil Rajapaksa was remanded by Kaduwela Magistrate's Court last night until May 5.
The court made this decision when the former minister was presented before the Magistrate following a 10 hour long questioning by the Police Financial Crimes Investigations Division.
Former Secretary of the Economic Development Ministry Dr. Nihal Jayathilake and former Director General of Divineguma R. A. K. Ranawaka were also remanded till May 5. The Magistrate's Court refused the requests made by their lawyers for bail. The Magistrate said Rajapaksa was allowed to attend Parliament on April 27 and 28. A large number of Rajapaksa supporters who gathered outside the Magistrate's Court premises started chanting slogans against the government as the former minister was taken into the court.
Rajapaksa, according to lawyers, was charged under the offenses against public property. The Police Financial Crimes Investigation Division (FCID) yesterday arrested former Economic Development Minister Basil Rajapaksa, Nihal Jayathilake and R.K.K. Ranawaka over the charges of misappropriateing Rs. 63 million from the Divineguma Fund. According to Police Spokesman ASP Ruwan Gunasekera, the former Economic Development Minister was summoned to the FCID for questioning on the orders issued by the Kaduwela Magistrate.
He said a special police team questioned the former Minister for over six hours over his involvement in the financial irregularities that have allegedly taken place at the Divineguma Department and a lengthy statement was also recorded from him.
Rajapaksa who was the National Organizer of the Sri Lanka Freedom Party, left for the United States where he was a citizen with the party's unexpected defeat at the last presidential election. Former Director General of the Divi Neguma Department R.K. K. Ranawaka was also questioned by the FCID over the misappropriation of funds at the Divi Neguma Department and Ranawaka had told the investigators that former Minister Basil Rajapaksa had ordered him to spend Divineguma funds for his brother's election propaganda.
The FCID charged the former Minister of misappropriating Divineguma funds for the election campaign of his brother, former President Mahinda Rajapaksa before the Kaduwela Magistrate's Court. He was also charged for spending public funds worth Rs. 70 million to hold a conference.
(Daily News)
Latest Headlines in Sri Lanka