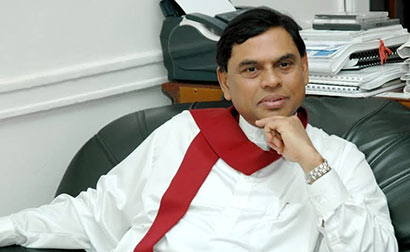 SLFP National Organiser and former Minister Basil Rajapaksa resigned from the post of SLFP National Organiser on Thursday, January 15 after accepting full responsibility for the defeat of President Mahinda Rajapaksa at the Presidential Election held on January 8.   Basil Rajapksa led the UPFA Presidential Election campaign.
Informing his decision in a letter to SLFP General Secretary Anura Priyadarshana Yapa, Basil Rajapaksa has stated that he will continue to function as a UPFA backbencher in Parliament. In the letter he has thanked SLFP members and all members, activists and leaders of the constituent parties of the UPFA, especially UPFA leader Mahinda Rajapaksa, UPFA Secretary Susil Premajayantha, SLFP General Secretary Anura Priyadarshana Yapa and all officers who assisted him in organising the election campaign.
He has further stated that the dedication of the Elections Commissioner, all Government officers, police and security forces personnel to their duties and the cooperation extended by  the people and their representatives in the Gampaha District and the rest of the country, who voted for the UPFA Presidential Candidate and obeyed election laws helped to maintain peace and law and order in the country.