Battles ahead: Big parties ready for May Day Battles ahead
Posted by Editor on May 1, 2017 - 8:15 am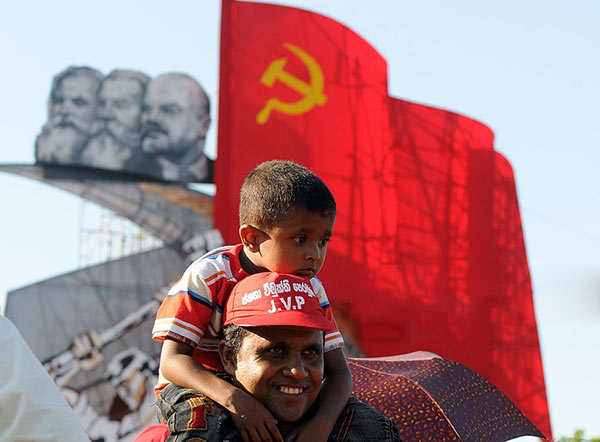 The UNP and the SLFP will hold their May Day rallies at Campbell Park, Colombo and Getambe, Kandy, respectively as the latter contemplated disciplinary action against its dissidents in the Joint Opposition (JO) holding a separate rally.
Police said they had detailed 20,000 men and women to maintain the law and order situation in the city today.
JO Convenor and Gampaha District MP Prasanna Ranatunga yesterday said it was ready to face any eventuality following the successful conclusion of their May Day rally.
Ranatunga was responding to SLFP General Secretary and Agriculture Minister Duminda Dissanayake's recent warning. Minister Dissanayake vowed to deal sternly with those who would defy the party directive and attend the JO rally in Colombo.
The JO comprises 52 elected members out of 95 elected and appointed on the UPFA lists at the last parliamentary poll in August 2015.
Commenting on the recent sacking of party organisers Janaka Bandara Tennakoon, Lohan Ratwatte and Anura Vidanagamage, Minister Dissanayake stressed that the party wouldn't hesitate to take tough action against those who defied party directives.
Ranatunga told The Island that the JO expected all those opposed to the government to gather at the Galle Face Green in spite of various obstacles. The SLFPer pointed out that the JO's was the only rally against the injustices perpetrated by those who
had regained power, promising transparency and accountability whereas all others were either in government or working closely with the ruling coalition.
The MP alleged that perhaps those who had benefited from the massive Central Bank bond scam funded the UNP May Day rally.
JO spokesman Dallas Alahapperuma told The Island that they with a conscience could not throw their weight behind the Getambe rally when the SLFP group in the government was shielding UNP led government responsible for Central Bank bond scam and surrendering Sri Lanka's interests to India and China.
JVP May Day rally will be held at the BRC grounds with the participation of its parliamentary group.
(Source: The Island / Pix by Lakruwan Wanniarachchi)
Latest Headlines in Sri Lanka