BBS warns Muslim group over anti-Israeli protests in Colombo
Posted by Editor on August 13, 2014 - 8:16 am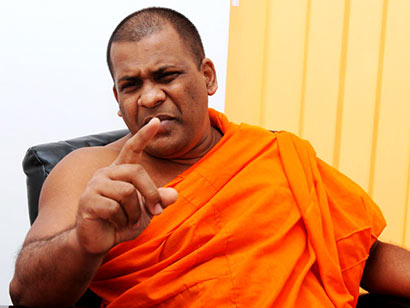 Recollecting significant Israeli support to Sri Lanka's successful war against terrorism, the Bodu Bala Sena (BBS) has warned that it would mount a counter protest campaign if Sri Lanka Thowheed Jamath (SLTJ) launched demonstrations in Colombo against the ongoing Israeli operations against Hamas.
A senior BBS spokesperson told The Island yesterday that the BBS was aware of SLTJ's efforts to launch protests in Colombo most probably today (Aug 13) condemning the government of Israel.
The BBS official said that the organization had no relationship with the Jewish state, though it felt the Sri Lankan government couldn't forget the assistance received from Israel during the war.
Israel supplied a range of armaments, including Kfir jets, Dvora and Shaldag class fast attack craft, Unmanned Aerial Vehicles, anti-missile syetems for Mi-24 helicopter gunships as well as combat training.
Strongly condemning the government's failure to prevent SLTJ from coming onto the streets against Israel, the BBS spokesman said that the government was aware of its decision to launch a protest campaign in Colombo.
Last week, the JVP protested outside the US embassy in Colombo against Israeli military action.
Sri Lanka re-established full diplomatic ties with Israel in 2002 soon after the LTTE captured strategic Elephant Pass base.
Ven.Galagodaatte Gnanasara thera said that the SLTJ's role in protests organised by the government was meant to strengthen its base. The government should realize the danger posed by SLTJ and groups with similar objectives, Ven. Thera said, vowing the BBS wouldn't hesitate to take the required steps unless the government acted swiftly and decisively to neutralise the growing threat.
The BBS stressed that the SLTJ wouldn't be allowed to exploit the situation in Gaza to its advantage. The BBS asserted that both Israel and Palestine should take responsibility for the crisis in Gaza. Accusing Hamas terrorists as well as global powers of causing mayhem in Gaza, the BBS said that the SLTJ was seeking to strengthen its cause at the expense of Sri Lanka's relations with Israel.
The BBS said that those accusing Israel of accountability issues were strangely silent on what was going on in Syria and the neighbouring region. Referring to ongoing large scale operations conducted by ISIS (Islamic State of Iraq and Syria) terrorists in the Middle East, the BBS said that Muslim organizations here should be concerned about bloody violence caused by terrorists against their own before taking on Israel.
(Courtesy: The Island)
Latest Headlines in Sri Lanka