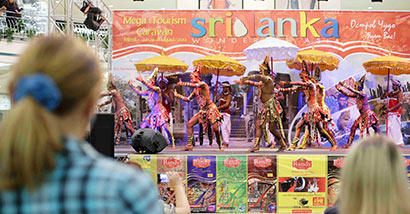 – by Janaka Alahapperuma – Pix by: Sudath Silva
President Mahinda Rajapaksa will begin his three day official visit to Belarus, former Soviet Union country today on Sunday 25 August. Meanwhile Sri Lankan Embassy in Russia accredited to Belarus has organised many cultural and traditional dancing events called 'Mega Tourism Caravan' an awareness campaign prior to the President's visit to promote Sri Lanka tourism under the theme "Sri Lanka- Wonder of Asia" in major shopping malls in the Belarus capital city, Minsk.
During the visit, President Rajapaksa is expected to hold bilateral discussions with the President of Belarus Mr. Alexander Lukashenko, Prime Minister Prof. Mikhail Myasnikovich, Chairman of the Council of the Republic of the National Assembly of Belarus Mr. Anatoly Rubinov and the Chairman of the House of Representatives of the Belarus National Assembly Mr. Vladimir Andreichenko.
The President will be accompanied by a delegation of businessmen to attend a business forum where President Rajapaksa will be making a speech along with Prime Minister Myasnikovich. In addition to the political engagements, President Rajapaksa will also attend a tourist forum and visit an automobile plant in Minsk.
Sri Lankan Ambassador to the Russian Federation, Udayanga Weeratunga accredited to former Soviet Union nations said President Rajapaksa's visit will strengthen Sri Lanka's relationship with Belarus for the benefit of both countries in terms of stability, security, trade, tourim and development.
Chandana Wickramasinghe, an acclaimed dancer and founder of The Dancers' Guild of Sri Lanka coordinates the cultural shows and dancers under the guidance of Ambassador Weeratunga for the promotional events during the President's visit.
Republic of Belarus is a landlocked country in Eastern Europe bordered by Russia, Ukraine, Poland, Lithuania and Latvia. The parliament of the republic declared the sovereignty of Belarus on 27 July 1990, and during the dissolution of the Soviet Union. Belarus declared independence on 25 August 1991. Alexander Lukashenko has been the country's president since 1994.