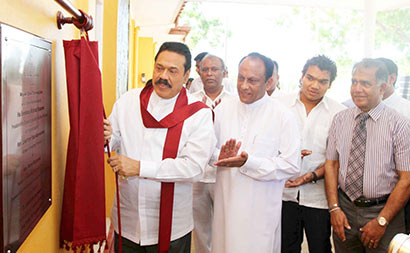 – by Janaka Alahapperuma – Pix by: Nalin Hewapathirana
President Mahinda Rajapaksa declared open new Administration Office of the Sri Lanka Board of Investments (BOI) at the Mirijjawila Export Processing Zone in Hambantota. The new admin office will control all administrative and processing activities for exporting goods of the Mirijawila Export Processing Zone. It is located in close proximity to the Hambantota seaport, Mattala International Airport, international conference hall, oil refinery and the extension of the railway line.
BOI took steps to set up two investment zones in Suriyawewa and Mirijjawila in the Hambantota district under the directive of President Rajapaksa. The project which comes under 430 hectares of land will consist of a sports complex, an information technology park, higher education institutions, a housing complex, tourist hotels and a supermarket complex among other facilities. The government has allocated 280 million rupees only for the Suriyawewa project.
Hambantota District Parliamentarian Namal Rajapaksa said the primary objective of the Hambantota seaport and the Mattala Mahinda Rajapaksa International Airport is to make Hambantota a hub of economic development in the Southern part of Sri Lanka. The investment zone will be built to supplement with the Hambantota seaport and Mattala airport development projects. No factories will be set up in the zone and there would not be any harmful environmental impacts due to the construction of the project. He further stated that the Government of Sri Lanka has taken a clear policy decision to take the development which was earlier confined to the Western Province to the rural peripheries for the betterment of grass root level communities across the country. Therefore these EPZs will generate many jobs for local youth thus enhancing the socio-economic status of the people living in nearby districts.
Minister Laxman Yapa Abeywardena, senior officials and local politicians were present at the occasion.