Eminent scholar Prof Mendis Rohanadeera commemorated
Posted by Editor on August 25, 2013 - 9:49 am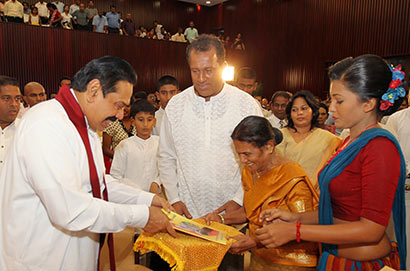 – by Janaka Alahapperuma – Pix by: Udesh Gunarathna
One of the highly respected and prominent intellectuals in the recent past Professor Mendis Rohanadeera was commemorated recently at a special ceremony organised by the Rohanadeera Study and Research Center. The second memorial ceremony of the late Professor popularly known as 'Giruwaye Maha Praggnaya' took place at BMICH under the auspices of President Mahinda Rajapaksa.
A book of poems, the last creation of Prof. Rohanadeera, was handed over to President Rajapaksa by his wife and family members. An autobiography of the late Professor was also presented to the President at the ceremony. The son of the late Professor, Hariguptha Rohanadeera also presented a collection of the research papers published by Professor Rohanadeera to the newspapers to the President and Secretary to the Ministry of Defence and Urban Development Gotabaya Rajapaksa.
The memorial lecture was delivered by Professor J.B. Dissanayake. Delivering the keynote speech, Professor Dissanayake said Professor Rohanadeera rendered a yeoman service to the society. He said Prof Rohanadeera was a prominent intellectual on Buddhist culture, archaeology and history. Professor J.B. also noted that Professor Rohaneedara's works threw huge light on various areas in history not only in Sri Lanka but also in Thailand. He also stated that Mendis Rohanadeera's scholarly works helped to enhance ties between the two nations.
Addressing the gathering Venerable Ellawala Medhananda Thero highlighted that deciphering epigraphs was a hobby of the late Professor. Venerable Thera also stated Professor Rohanadeera was an eminent scholar at local and international levels and asset to the country. Parliamentarian Dr. J.R.P. Suriyapperuma and veteran artist Jackson Anthony also addressed at the event. They said that late Professor Mendis Rohanadeera was an erudite scholar in the country who attracted many accolades at the local and international level.
Venerable Maha Sanga, intellectuals, scholars, many politicians, senior state officials, artists and a large number of invitees were present at the event.
Late Prof Mendis Rohanadeera had served as a Professor of History at the Sri Jayewardenapura University for a number of years. He had been the author of several books, mostly about Buddhist culture, archaeology and history. He had contributed to many programmes in the local television and was instrumental in taking the major role in the programme 'Maha Sinhalaye Wansha Kathawa'. He was 81 years old at the time of his demise.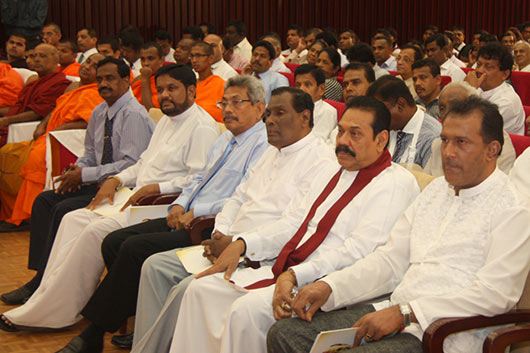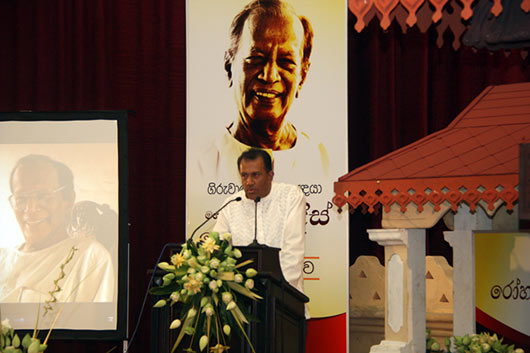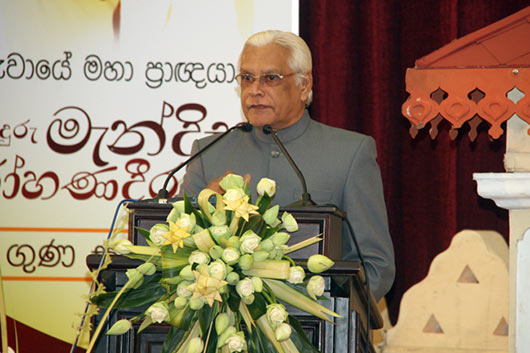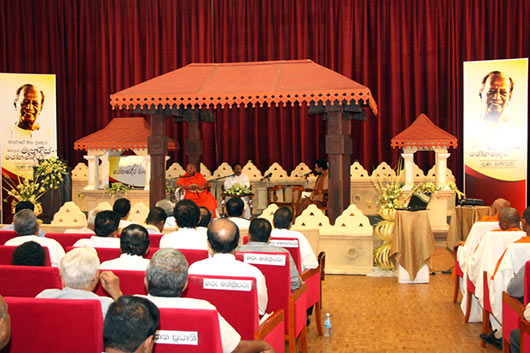 Latest Headlines in Sri Lanka