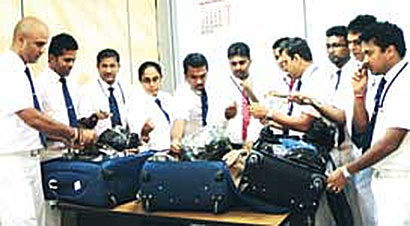 Sri Lanka Customs yesterday arrested three persons including two Indian nationals after intercepting a large stock of Wallapatta (Gyrinops walla) being smuggled out of the country.
Custom officials at the Bandaranaike International Airport detected the 48 kilos of Wallapatta packed in three bags at the departure terminal around 5.30 am. The value of the stock is placed at Rs. 38.4 million.
It is believed to be the largest consignment of Wallapatta detected at the BIA.
Customs Media Spokesman and Director (Legal) Lesley Gamini told The Island that two Indians aged 30 and 40 and a 55-year-old Sri Lankan national were scheduled to fly to Chennai on SriLankan flight UL 121 at 7.10 in the morning.
Head of the Biodiversity, Cultural and National Heritage Protection Division (BCNHPD) of Sri Lanka Customs Samantha Gunasekera said that it was the biggest detection in the passenger terminal this year.
He said that there had been five detections of Wallapatta smuggling last year and 16.2 kilos of wallapatta had been detected in February this year.
"All stocks were scheduled to be smuggled out to Chennai, except one sent by courier to Singapore," Gunasekera said.
Environment Lawyer Jagath Gunawardena said that the Gyrinops walla was protected under the Forest Ordinance as a forest produce.
He said that according to the Ordinance it was prohibited to cut down the tree, keep in possession, export or transport of Wallapatta.
Gunawardena said that the Wallapatta was high in demand in the perfume industry and that was the reason for frequent smuggling attempts.
Investigations are being carried out by BCNHPD Head Deputy Director of Customs Samantha Gunasekera, Deputy Superintendent of Customs Nishantha Jayasinghe, Assistant Superintendent of Customs Nuwan Abeynayake, Custom officials Manoj Samarasekera, Manjula Kumara, Thilanka Samaraweera, Chinthaka Syamali and Nirosha Wijethunga.
(The Island)