BJP won't offer military support to Lanka: Vaiko
Posted by Editor on February 17, 2014 - 4:38 pm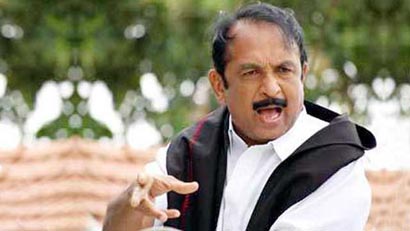 Bharatiya Janata Party's prime ministerial candidate Narendra Modi has assured that no military support would be given to Sri Lanka in the event of his party coming to power, Marumalarchi Dravida Munnetra Kazhagam (MDMK) general secretary Vaiko said here on Sunday.
Addressing reporters, Mr. Vaiko said that he recently met Mr. Modi in Chennai and explained the atrocities unleashed by the Sri Lankan Army on Tamils. "Mr. Modi has given an assurance that former Prime Minister Atal Bihari Vajpayee's decision of no military support would continue," he said.
Mr. Vaiko said the Permanent People's Tribunal on Sri Lanka found the island nation of committing "genocide of Tamil people".The Congress-led government at the Centre had all along been a mute spectator to attacks on Indian fishermen.
He said issues of Commonwealth Games, Agusta Westland copters, 2G, Coalgate, Aadhar were 'historic scams' of the United Progressive Government during its 10-year rule. "People threw Congress out of power earlier because of the Rs. 64-crore Bofors scam. Now the scams are much bigger and people would definitely throw the Congress out of power," he added.
Asked whether he would contest the Lok Sabha elections, he said the party's general body would decide on it. He also said that demanding justice for the Sri Lankan Tamil, a protest would be organised worldwide on February 26. "Protest would also be held outside the residence of British Prime Minister David Cameron and other leaders."
Special Correspondent adds from Chennai:
Mr. Vaiko said in a statement that UK's Channel-4 was likely to release new evidence that would prove allegations of serious war crimes in Sri Lanka. He said the footage contained images of how 15 innocent Tamil women were sexually abused and murdered during the last phase of the war.
(The Hindu)
Latest Headlines in Sri Lanka