'Boom' is back?
Posted by Editor on September 5, 2012 - 7:13 am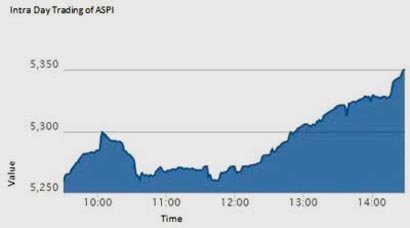 The stock market is enjoying a sudden boom but it is certainly too unpredictable to be emphatic that the rebound is there to stay though investor sentiments are sure to have got a big boost of late.
Continuing from where it left on first day of the fresh week, the Colombo stock market yesterday got further strengthened with buying across the board as confirmed by at least two brokers whilst retailers remained re-energised, which is welcome.
With market's value up by Rs. 30 billion in a day, ASI gained by 76 points or 1.45% and MPI gained by 74 points or 1.51%. Turnover was Rs. 1.24 billion. MPI's year to date negative return has been reduced to below 5% and ASI's figure to 12% by yesterday as opposed to 20% in July with regard to the latter. Confirming the level of hyped-up activity, the market saw a staggering 178.6 million shares transacted via 24,270 trades.
During the past six market days, the combined volume of shares traded was nearly 478 million, which is almost close to the entire month of July's (21 market days) figure of 488 million. Yesterday's number of trades was almost half of last week's figure. Profit taking by previously battered retailers was evident which also led to some degree of volatility in indices but analysts were heartened by the fact that most are re-investing gains back in the market. The reason being that sellers finding stock prices remaining on the up on demand thereby tempting a fresh round of buying. Blue chips have fetching a higher premium on the back of investors re-rating the market.
Analysts said after being in the doldrums for many months the market 'coming to life', was understandable though a closer scrutiny by regulators on exposure positions was warranted as well.
There has been consensus that rebound in sentiments was owing to expectations of a more market-friendly and pragmatic regulatory regime in the SEC.
Foreigners who were net sellers on Monday were back to being net buyers of Rs. 69 million keeping the net year to date inflow at a record Rs. 28.6 billion.
"The indices continued a six day uptrend, ending sharply higher on the back of continued buying interest across the board," John Keells Stock Brokers said. Endorsing the latter view, SC Securities said, "The buoyant sentiment of the Colombo bourse persisted for second day running with all round investor participation seeing a sizeable rise."
"The market held onto positive ground after volatile trading during the early hours. Retail participation continued to dominate trading with retail active counters taking the lead throughout trading," said Lanka Securities. It also said cash map yesterday was 62.97% which actually indicates that strong buying interest prevailed over selling pressure.
Asia Wealth Management said the bourse continued its upward trajectory, with ASI breaking the 5,300 mark, primarily driven by aggressive retail participation.
"The market gaining points substantially seems to be an evidence of local investors regaining confidence, which is one of the key factors for the sustainability of the Sri Lankan equity market," it added.
"Retail upbeat sentiment continues Indices gained significantly with the ASPI reaching the highest in four months," noted NDB Stockbrokers.
Softlogic Stockbrokers said the bull run has now persisted for nearly nine straight trading sessions leading the broader index to advance as much as 380 points (around.7.7%). "With a considerable percentage of gains have been attributed to the penny play, the quality stocks also have built momentum at a slow, steady and quiet pace," it added.
Given retail dominance, top contributors to turnover was Free Lanka Capital (Rs. 80 million) with over 27 million shares traded and the counter closing up 28% to Rs. 2.85 whilst renewed interest on E – Channelling following a strategic buy of 10% on Monday by Capital Trust Holdings, saw it account for Rs. 64 million.
However fundamentally sound Sampath Bank emerged second biggest contributor to turnover with Rs. 77 million with high net worth and institutional play. Up 5% to Rs. 186.40 Sampath Bankalso contributed to ASI's movement after fellow blue chips SLT, Carsons and CTC.
Nation Lanka Finance, Peoples Leasing and Bukit Darah too contributed to the turnover.
Noteworthy gainers for the day were Free Lanka Capital up by 28.0% to close at Rs. 3.20, Seylan Merchant Bank (Non-Voting) up by 25.0% to close at Rs. 0.50 and Commercial Development up by 22.0% to close at Rs. 74.9.
NDB Stockbrokers said accumulation continued in fundamentally strong banking sector counters such as Commercial Bank and Sampath Bank.
Banking, Finance and Insurance sector became the highest contributor to the market turnover (due to Sampath Bank and People's Leasing) and the sector index edged up 1.51%. The share price of Sampath Bank increased by Rs 9.20 (5.12%) to close at Rs 189.00 while the share price of People's Leasing gained Rs 0.70 (6.31%) to close at Rs 11.80.
Softlogic said steady players including DFCC Bank, Expolanka Holdings, Hatton National Bank, Hayleys and Richard Pieris also grabbed considerable interest during the day's trading.
Source: FT
Latest Headlines in Sri Lanka